Local And Long Distance Moves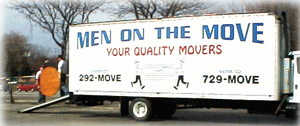 If you are searching for any of the following topics:
Look no further. You'll find it at www.michiganmovers.com!
Need info on local and long distance moves, say from Michigan to Florida or how about fully insured movers or movers who care? We're the ones to see. We're Michigan Movers - Men on the Move, metro Detroit's independent movers, fully insured movers who care.
We can help you move locally across town or long distance to any one of 26 states including moves from Michigan to Florida. The benefits of having our company move your items long distance are that we treat your long distance move just like we would a local move. Men on the Move will load your items and deliver them to your new address the same day or the day following loading. You have exclusive use of our fully insured movers and truck, meaning that your furniture will be at your new location faster than many other movers that split loads.
In addition to being a local and long distance moving company that employs movers who care, Men on the Move is a full service moving company offering professional packaging and loading and unloading services for our clients preferring to move themselves.
At www.michiganmovers.com, you'll discover an easy to use, information packed web site. Click here to learn more about local and long distance moves from Michigan Movers - Men on the Move.
MPSC #L25824