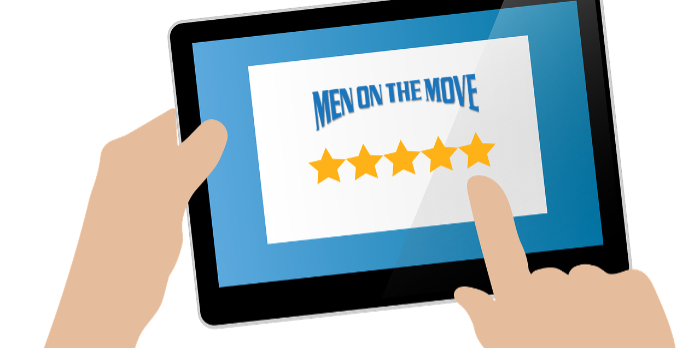 As a moving company in Michigan, we are always looking for ways to gauge how Men On The Move is positioned in our market. Both in regards to how people find us and how we are perceived.  When it comes to our customers, we strive to provide the best service available from a professional mover. In addition, we appreciate all feedback from our customers and encourage everyone to leave a review of our services.
Recently we were looking at Facebook Groups for information that might be relevant to local movers such as ourselves. We came across a conversation on a community page and wanted to take a moment and share what people think of us.
This question was asked about Men on the Move:
Has anyone had experience with Men on the Move for a local move? Any feedback would be appreciated. Thank you!!
Here is what the community had to say:
> Based on previous feedback I have booked them for the end of the month, So far they have been very upfront with me.
> Gary Bulson and his crew are GREAT. I have used them and highly recommended. Very good service.
> We used them almost 2 years ago, they were fantastic.
> I've used them a couple of times, Absolutely great.
> They are great! Gary Bulson the owner is a good dude, even if something happens (we're all human) he makes things right.
> We are about to use them next month because we have heard nothing but great things about them.
> They moved me from Grand Rapids to Plymouth, then to Canton – even finished up my packing in Plymouth! Super awesome.
> Positive experience!
> They are fantastic and very reasonably priced.
> They are wonderful!! Used several times, give you a fair quote, and don't try to hide fees or anything. Brian is one of their best guys, takes good care of your stuff.
> Yes, they were great.
> Yes, I used them & they were great & reasonable on their price.
> My friend's husband owns the business, great people and staff!!
> Yes, I used them multiple times and I wouldn't use any other company.
> Moved me twice. Friendly and get the job done quickly and safely. Have an old glass cabinet that has made it safely both moves. Can say that nothing has ever even got broken.
> Yes, moved from Lake Orion to Canton, they were great.
> Used them a few times! Always on point! Awesome customer service and care with your stuff! Thanks, Gary & Crew! They are the only movers I trust.
Ok, we just couldn't resist tooting our own horn. These are just a few kind words from customers and friends and we REALLY appreciate it! If you are looking to move in Michigan (or even out of state from Michigan), give Men on the Move a call today at (734) 744-9547.  Finally, please fill out a free request for quote form and schedule your move today!
Posted In: Men on the Move, Review
Tags: facebook reviews, men on the move facebook, men on the move reviews, mover testimonials