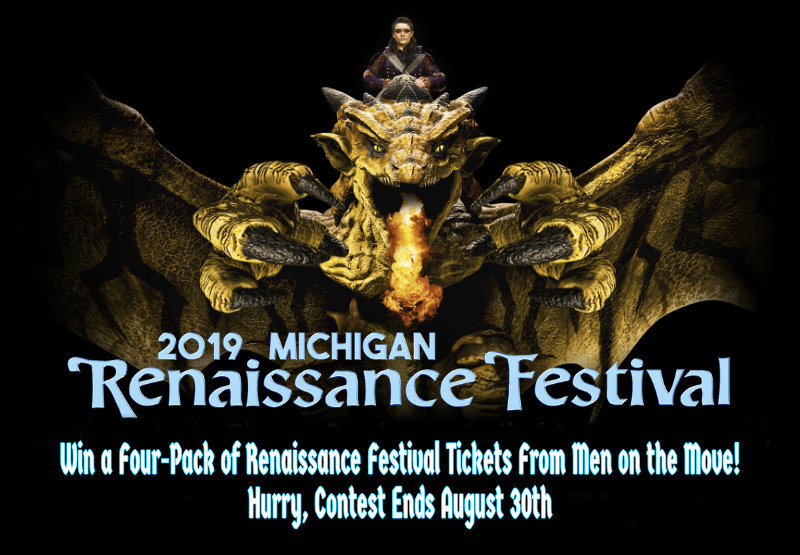 With summer winding down, one of the first big events besides Lions preseason is the 2019 Renaissance Festival. Looking for a great time for the full family? Come on over to The Michigan Renaissance Festival! From the amazing acts to the distinguishing food, there is bound to be something for everyone in your family. Whether it be shopping, eating eccentric foods, watching and participating in special events, or even just dressing up in medieval attire, your day will be filled with fun!
Things to do at The Michigan Renaissance Festival
There are so many fun things to do here. Interested in shopping? There are so many one-of-a-kind shops to browse in with your family. Shop for handmade jewelry and then look for some matching fantasy apparel! From the caricature and portrait stands to the leatherworks shop, there is a bit of everything for everyone! Wondering what other stores are in the marketplace? 
If you're an adventurous eater, then the annual Michigan Renaissance Festival will probably be your favorite place! There's very unique food that you can only find here. This includes; Turkey Drumsticks, Scotch Eggs, Cheesecake on a Stick, Spicy Maple Bacon on a Stick, and much more! Embrace your medieval heritage and pig-out at one of the food stands present throughout the festival!
Along with medieval shops and food are special events and acts. People from all over the country come to the Michigan Renaissance Festival to watch the horse jousting events, attend the Masque Ball, Compete in the archery competitions, and drink all you can in the Pig N' Swig. There is nothing boring about walking through the well-known Hawk Walk and then to the Feast of Fantasy Buffet. 
If you are interested in getting four free tickets, enter the contest run by Men On The Move! You can enter here through this link. Also,  feel free to contact us for more information. We can't wait to hear from you!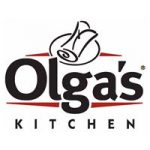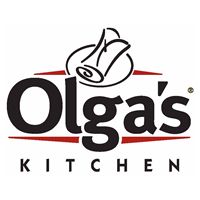 Here at Men On The Move, we like to have some fun and what's more fun than Gift Card Giveaway Contests? Each month, we hold a contest to give away a gift card from a local business that's great to eat at! Also it's easy to get signed up! All you have to do is fill out our entry form each month for the gift card you want!
Which type of gift cards do we give out? Some of our previous contests have included MOD Pizza gift cards and Del Taco gift cards. Also currently, we are running another fun and useful giveaway contest!
Our Current Gift Card Giveaway
For the whole month of July, we are giving away a $50 Olga's Kitchen gift card to one lucky winner! If you love pasta, gyros, Greek salads, and snackers, enter today to win free ones! At the end of the month, winners will be randomly drawn and contacted. Will it be you? Sign up soon and give yourself a chance!
Men On The Move makes moving fun! If you are looking to move, hire Men On The Move today. We will make your moving experience as calm and stress-free as moving can be. In addition remember, even during a move, you can still sign up for the gift card giveaway contest. For more information on our monthly gift card giveaway contests, contact us today! And don't forget to check our social media accounts so you can stay updated on our current events and contests!
Enter The Giveaways Today
Enter our giveaways today for a chance to win! Simply fill out the form below and you will be eligible for the giveaway. In addition, our giveaways vary from month to month so come back often and enter today!
This contest has ended join us next month!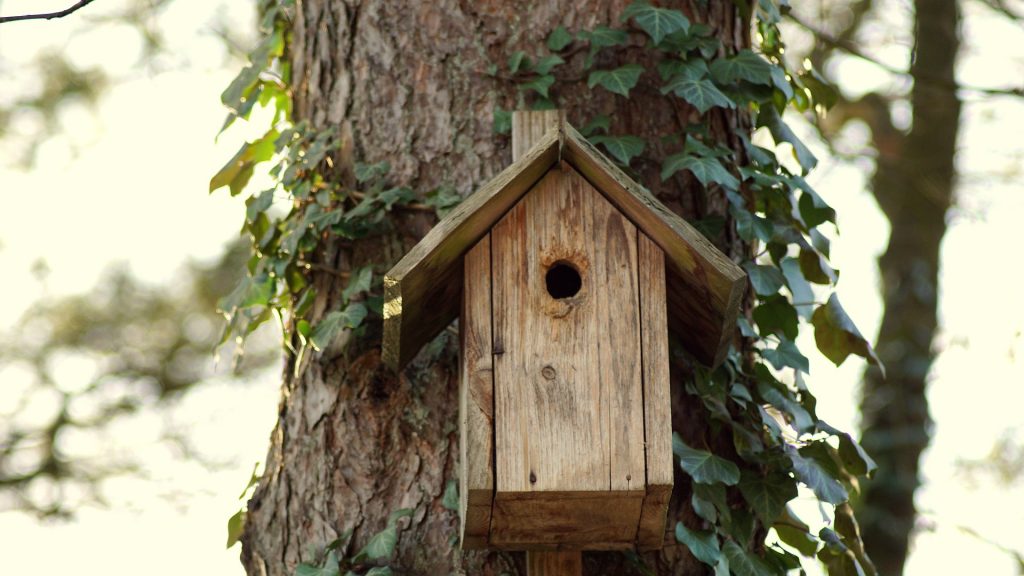 Wonder what some of the benefits of springtime moves are? Winter is finally over so now is the best time to move into a new house! Besides the occasional rain, the Spring season is the perfect moving season to relocate your family and your belongings as temperatures in Michigan are just right. There are also many benefits to moving in the Spring.
Benefits Of Springtime Moves
Fewer people move in the Spring than in the Summer. This means that our schedule is mostly open for your convenience.

Moving is more comfortable in the Spring because of the temperature. Winter is too cold, Summer is too hot, Spring is just right!

Spring is one of the best seasons to sell your house. A lot of people like to buy houses during the Spring season so they can be settled in by the time Summer comes.

If you have kids, moving in the Spring is the easiest time. There are a lot of school breaks in the Spring that they can use to integrate themselves into the new house and perhaps get ready for a new school. Not to mention, with the kids home, you will have an extra set of hands for unpacking.
Early Spring Special
Don't miss out on booking your move this April. For the rest of the month, when you book a move, you will get $50 in free boxes to assist you with your move! Don't miss your chance to make your move easier with free boxes! We move people in and around all local cities at special rates so act now. For more information to make moving easier, visit our tips page. Make it easier on yourself!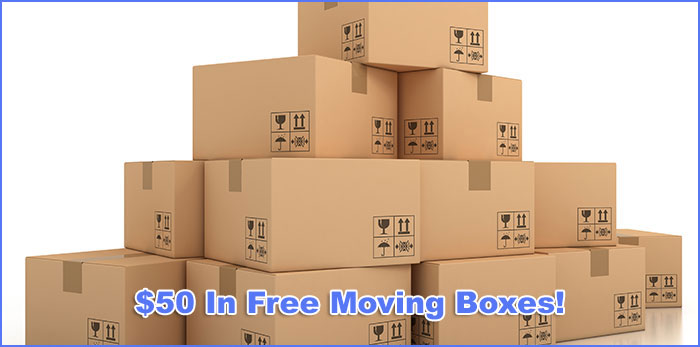 Spring is in the air and summer is right around the corner. Do not wait for your chance to get free moving boxes for your next move. From now till April 30th, Men on the Move is offering up to $50 in free moving boxes when you book your next move.  Moving boxes are essential in an organized and fast move. Without them you are just asking for trouble and chaos.
Residential Moving Quote  Commercial Moving Quote  Long Distance Moving Quote
Reasons For Using Moving Boxes
If you want your next move to go smooth, then using boxes are your best bet. Also, besides the boxes, packing tape, markers, and packing supplies are all essential. First make sure to secure your belongings in the proper boxes. If packing dishes, make sure to use a dish pack. This will help protect you breakable dishes for the move. Next if you have clothes that you may not want to wrinkle we suggest a wardrobe, this allows you to hang items during the move.
Also, your mattress you will want to protect, so we suggest a mattress cover. This is a heavy duty clear poly bag that slips over the top of your mattress protecting it during the move. Then of course there is a multitude of box sizes to choose from. Once the boxes are filled, make sure to look inside and label the box properly. Labeling is probably one of the most important steps of packing your belongings. With proper labels the movers can place the box in the proper room instead of waiting for you to tell them each time.
These are just some of the few tips when moving. Make sure to take advantage of this special offer of free $50 worth of boxes. By saving you money and making your next move simple and easy you can not lose!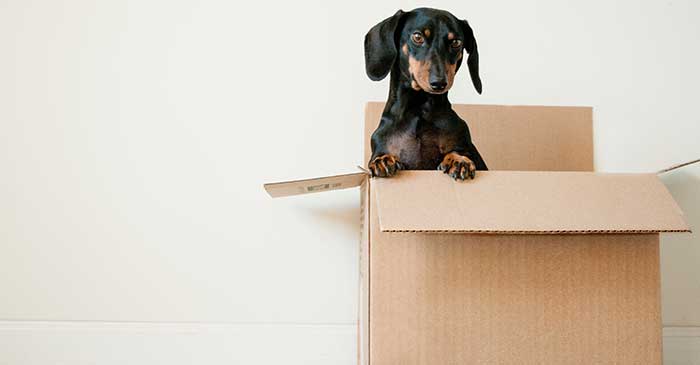 Final Four Party Reminder
Are you enjoying March Madness? Even if your bracket is already busted, you can enjoy a pizza party on us. Enter here for your chance to win $50 gift card to MOD Pizza.  We will be drawing a winner on April 5th just in time for the Final Four! No matter if you are a Michigan State or Michigan fan, everybody is a winner with free pizza!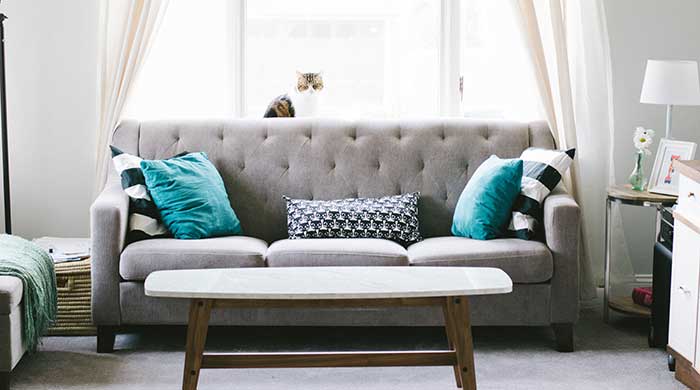 Furniture moving is always a headache no matter which way you look at it. Big heavy couches or love seats can be tricky moving out of a narrow doorway or down flights of stairs. Also, loading them into a truck can present challenges as well. Hiring professional furniture movers in the Farmington Hills area can also be a little tricky.  That is where the professionals at Men on the Move come in.
Furniture Moving Help From Men on the Move
When you purchase new furniture and you would like to store your old furniture for a family member there are options. First, you have to decide where you are going to store the furniture. Why not at Men on the Move! They have storage areas for all your furniture at great prices. Of course, you can move the furniture directly to a friends house in Farmington Hills or other cities.  But you do not want to be a burden on your friends.
After you decide where to store your furniture, it is time to move it. Again you can beg friends to come to help you or just try and do ti your self. Why bother with that back-breaking labor, just hire Men on the Move. The whole process is really simple. Contact Men on the Move, they will send you a quote once agreed upon, they do the rest. A piece of cake! It does no matter if you live on a third-floor apartment downtown, Men on the Move can handle it.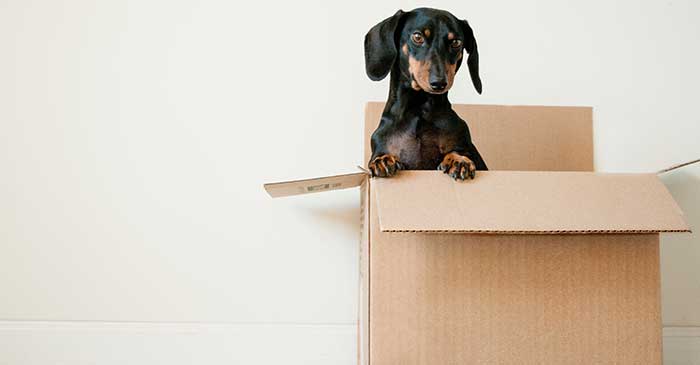 To recap, if you have big heavy furniture that you personally do not want to move you should hire Men on the Move. We will take all the trouble out of moving furniture for you. Finally, give us a call today at 734-744-9547 or if in Ann Arbor call 734-913-9966.  We are an insured and licensed mover here to help you!
Enter to win $50 Worth of Gift Cards For Your Final Four Party!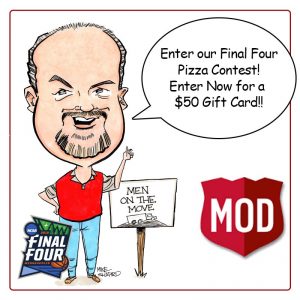 Want to be the hit of your Final Four party? Enter now for a chance to win $50 in MOD pizza gift cards for your next party! Hurry and enter now to win the Final Four Party Giveaway the deadline is April 5th, 2019!
At Men on the Move love giving back to our customers and communities in the Greater Metro Detroit area. So it is great when we have the opportunity to give away prizes and deals to all our loyal customers and friends!  We have teamed up with MOD Pizza to give one lucky winner a $50 gift card! 
This promotion has ended
It's simple and easy to enter! All you have to do is fill out the form above and you are entered to win our "Final Four Party Giveaway" to MOD Pizza.
Who Is MOD Pizza?
Mod Pizza was started in 2008 by a husband and wife out on the West Coast who wanted fresh and quality fast food. They treat their employees right and have only the freshest and best ingredients for their pizzas. With stores locally in Livonia, Northville and Canton, and 8 total now in Michigan (see below), you won't have far to go to find the nearest location!

No strings attached. The winner will be drawn at random from the entries on the MichiganMovers.com website.
Past winners include S. Mills and D. Perttola and the next winner can be you!
The gift card is good at any of the following Mod Pizza locations in Michigan:
---
---
---