Our team of movers are professionals that have been moving homeowners to (and from) Canton for over two decades. It is one of the fastest-growing communities in Michigan with over 90,000 people in Canton Township. In the top 100 of the highest income cities over 50,000, it is also listed as one of the safest cities in Michigan and in the whole United States.  It is one of the many reasons people looking for moving companies in Canton, choose us.
Men On The Move – Canton Movers
Are you planning to move to Canton? Call a professional mover – Men on the Move at (734)744-9547. Or, fill out a free moving quote form and we will email you a quote in a very short time. Book your move today!


Choosing a Canton Moving Company
Whether you are moving from Livonia, Westland, Garden City, or Novi to Canton we can move you quickly, and safely, and give you a great price!  Why bother with uninsured shady fly-by-night companies when you can hire a reputable Canton moving company? We own our trucks, not rent them like many pop-up operations. We can move you into that Canton dream home you always wanted. No one really likes to move by themself, renting a truck and asking (sometimes begging) friends to help is just a giant hassle.
Choosing the right moving company can make all the difference in the world. A company that provides AAA quality moving service in Canton Michigan is the mover you trust and choose. In Addition to being an AAA quality moving company, we are fully insured and licensed.  When it comes to highering movers in Canton, the right choice is Men on the Move.
Canton – A Great Place To Be!
The city/township of Canton is located just about 8 miles from the city of Detroit in Southeastern Michigan. If you're not familiar with this great area, you can easily map it on your mobile phone. Or, if you wish to learn more about the city's history and demographics you can visit the Canton Wikipedia page.
Choose The Best Moving Company in Canton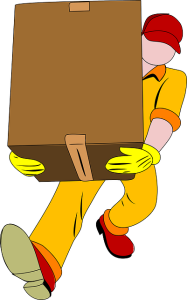 Why choose us as your mover?
There are many reasons as we point out on our
home page
. Here is a few of particular interest to people moving to this fine city:
Moving professionally with multiple service awards
Michigan Licensed & Fully Insured
Canton movers are scheduled 7 Days a Week
Many retirees move to Canton and we offer discounts to seniors
Moving is never easy. Probably the worst part of it is organizing, cleaning, and packing, that's your job. That is why we provide you with helpful moving tips! The second part is not much better, however, by highering a professional moving company you can fix that!
We've received awards from Angie's List, and MetroTimes, we are BBB and Home Advisor accredited, part of several organizations. We live here and appreciate it. However, it really comes down to what our customers say about us. You can read some of our testimonials or just ask around. About 30% of our business comes from satisfied customer referrals. That is the thing we are most proud of!
Apartment Moving In Canton
Canton is home to hundreds of apartment complexes. If you live in an apartment in Canton, and you are looking to move, contact Men on the Move today! Moving from the upper floor of an apartment can be a daunting task. We can move your belongings to your new place safe and sound. Apartments, condos, or rental properties, it does not matter to us we will move them all!
For more information in regards to moving companies in Canton, please
contact us
! Men on the Move is a Michigan-based moving company with an extensive service area. We will make your move to or from Canton as easy and affordable for you as possible.