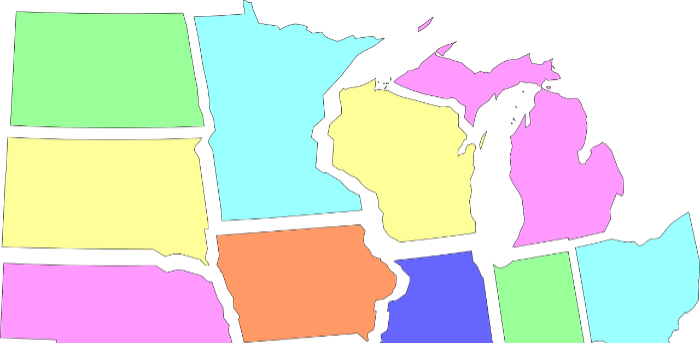 Moving out of state can be hard. Relocating to an unfamiliar place can be a challenge. In addition to packing, you have to travel long-distance. All of this can lead to a stressful situation. That is why you need to hire experienced out-of-state movers. But what to look for in an out-of-state mover? Who can you trust during a big move? Here are a few things you should be looking for.
---
When it comes to long distance moving, there are so many important things to consider. Sometimes, the details of what to expect and/or prepare for can be downright overwhelming. However, it doesn't have to be. Professional moving companies exist for this very reason—to lend their expertise during a complex life-changing moment.
Below, you'll read about a couple of benefits to having a professional mover handle your long distance move.
Long Distance Moving Benefits
How many times have you moved within the last decade? Once? A few? Professional movers have perfected their craft down to the "T", meaning that if you were to hand them over your entire move, you'd expect them to do an expert job. Those who have been in this profession for quite some time now are aware of what needs to be done and will do everything that they can to make your long distance move a smooth one.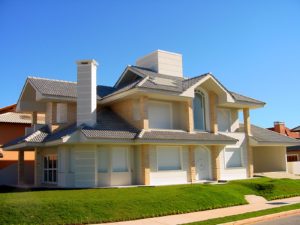 Less Stress
Like a divorce, death or the loss of a job, stress from a life-changing event can take a toll.  Moving a long distance to a new place can be that type of event. With so many decisions to make and things to consider regarding the needs of yourself, family and pets, professional movers can wipe out the hassle of overseeing every single detail and make you feel sane again. The more time for yourself, the better. Preparation is key to dealing with a life change, hiring a professional mover will help you with that.
Safety First
Another advantage to having a professional mover is that they handle all of the heavy liftings. Professional movers are trained in how to properly handle your belongings–no matter what it is. Because of this, it will save you and your family from having sore muscles and will keep you all safe from injuries or accidents.
Professional Long Distance Moving with Men on the Move
Is your new home 40+ miles away from your current home? Prior to hiring a professional moving crew for your long distance move, be sure to have all of your addresses and dates accurate, know whether or not if you're going to keep or buy new furniture and have your children and pet(s) prepared for this life-changing event. Once you have a list of things you're going to take, the next step is to pack, and finally, contact a professional moving company to help you with your long distance move.
Men on the Move is a professional long-distance mover from Livonia, Michigan. When looking to move long distances, which is any move over 40 miles, we can help. Our professional movers have extensive experience in long-distance moves. For over 30  years Men on the Move has been providing moving services all over Livonia.
So, what are you waiting for? Pick up the phone and call Men on the Move today for your next long distance move. Fill out our free residential quote today! We guarantee you that we'll handle your long distance move at a reasonable price.

The summer is here and the warm Michigan summers days are almost upon us. Also, we here at Men on the Move are gearing up for the busy moving season, which includes getting ready for long distance moves! We are ready to help locals move from cities like Livonia, Canton, Novi and Farmington Hills. If you are gearing up for a long distance move, get it done in one trip with a professional moving service.
Long Distance Move Considerations
You may be relocating your business or moving into your first home and asking yourself "What are the long distance movers rates in Michigan?". The best answer: It depends. The factors that go into a long distance move includes if you're crossing state lines and how many miles away your new location is. In addition, we take all of these things into account, plus current laws and regulations to give you your final quote.
Local Long Distance Movers in Michigan
We have been in the industry long enough to see the pitfalls and the scammers out there. That's why you need a company you can trust with your items. Men on the Move are a full-service long distance moving company that ensures our customers' full satisfaction upon delivery and unloading. We have the years of experience and the reputation you want from a moving company.
If you're in need of a local company that can handle your next long distance move, Men on the Move is your guy! Furthermore, we've been in business for over 25 years, and in that time we've set the bar for customer service. We know you could hire another long distance moving company with a truck, but why would you?  Instead, you should hire a Detroit company that Detroit's love and award year after year. Not only are we accreditated, but we've been voted "Best Moving Company" By the Metro Times the last couple of years in a row.
Finally, if you, a friend, or your business need to relocate, let us help! Get your free quote on your next long distance move here!
When you talk about a long distance moving, the first thing you need to consider when hiring professional movers. What is the exact definition of a long distance move? A long-distance move is any move that is over 40 miles, that can be in-state or out of state.
Before hiring a moving crew for a long distance move, make sure to have all your dates and addresses locked down and correct. Some companies may charge you if you need to change moving dates at the last minute, so before booking make sure to have all your information correct. Next, you need to decide how much you are moving. Are you moving all your furniture or just some or none and buying new?
Long Distance Moving Tips
Once you have a list of what you are going to take, the next step would be to pack. Of course, packing yourself or having friends and family help can save you some money over having a company pack your stuff. Canceling your utilities at your old place and scheduling new installs at the new place is something you should consider doing as well.
Once you are packed and scheduled you need to consider hiring an experienced and insured mover that will handle long distance moves at a reasonable price, such as Men on the Move! Men on the Move have decades of experience and will always deliver your belongings on time and safe and secure, contact Men on the Move today for your long distance move.
Do you need some extra money this holiday season or looking for a great chance at some cool gift cards? Visit You Must Be Curious for your chance to win a $100 Visa gift card and other great prizes! Just answer the three question quiz and you are entered for a chance to win great gift cards, enter today!

Long Distance Moving to Wilmington, North Carolina
The winter semester at many colleges and universities is over and graduations are underway. During this season, Men on the Move helps many young graduates move home. Long distance moving or interstate moving from Westland or Livonia are the most popular moves during this time.
Recently after completing a long distance move from Michigan to North Carolina, our Michigan movers had a chance to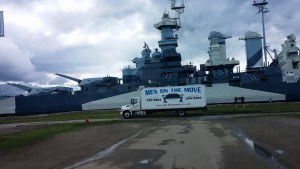 visit the USS North Carolina Battleship in Wilmington. Also, the USS North Carolina Battleship was one of the first fast battleships in World War II. The success of this ship helped to establish fast battleships as a protector of other aircraft carriers.On April 29 in 1962, the USS North Carolina because a memorial for the 10,000 people from North Carolina who died in the war. While in North Carolina, we had a chance to stop to have some fun and visit this great battleship. (Check out the photo on the left.)
Are you a recent graduate of  Michigan State University, Wayne State University, or Oakland University? Are you looking to make an interstate move from Michigan? Men on the Move is here to help you with a smooth college moving experience. Contact us today.

Happy New Year From Our New Livonia Location!
Men on the Move is proud to announce that we have completed our move to Livonia from Westland. Our new address is 12400 Merriman Road in Livonia, Michigan 48150. We are proud to now be apart of the Livonia community! Your favorite Michigan movers are moving to an 11,000 square foot facility to better accommodate our Wayne County customers.
Men on the Move is looking forward to offering new services for new local Livonia residents! Book your local move, long distance move, student move, or apartment move today with your trusted Michigan movers. Along with this new location, we will be offering indoor secure storage. We have storage areas you can rent with two different sizes either 10 x 10 or 10 x 15, your choice! Great for storing furniture, appliances, household items and much more! Reserve your storage area today!
Livonia Location With Great Highway Access
With the new location, Men on the Move can service surrounding cities even faster than the already fast service we used to offer. So when looking for movers in Plymouth Michigan, you should look no further than Men on the Move. We have been servicing Plymouth for over 25 years and all our movers are very familiar with the area. Give us a call today at (734) 744-9547 or receive a free quote on your next move to Plymouth, Ann Arbor, Canton or anywhere in between!
Finally, the new Men on the Move location is on Merriman between Plymouth and Industrial Road.