There is a multitude of benefits when it comes to living in downtown Detroit. You can be closer to restaurants, shops, and your favorite things to do. In addition to the shorter commutes to the things you love, you can save money on transport by using public transportation or walking where everything is close together. Furthermore, the new downtown areas are presenting more work opportunities and available jobs which makes it desirable for those in the workforce. As such, many people are interested in living in downtown areas and not just urban areas. Moving to downtown Northville, Plymouth, or Ann Arbor have its own special appeal, but it is not the same as moving to Detroit. Unfortunately, moving to any downtown can present its own unique problems. 
Moving Downtown in Urban Areas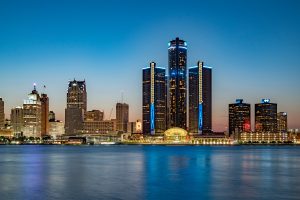 Detroit is a city with a little bit of everything which makes it the perfect place to move. However, moving to Downtown Detroit can be difficult for first-time movers or people with little experience. Unlike suburban areas, downtown Detroit is extremely crowded. This leads to lots of pedestrian foot traffic and motor vehicle traffic which can affect the efficiency of your move. Additionally, driving downtown can be confusing due to the confusing layouts and one-way streets. Moving into multi-floor complexes can also be a big hassle for the less experienced. Hiring a local moving company with experience in the area you're moving to can relieve a lot of stress in your move to downtown Detroit.
Moving to the Smaller Cities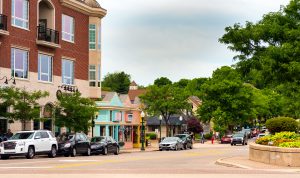 There's a lot to do in the downtown areas of smaller cities. In areas such as Plymouth and Northville, local store owners own cute shops and the city comes together every season to celebrate holidays, local artists, and the community. While moving to a downtown area in smaller cities or townships may be easier than moving to downtown Detroit, it can still be a difficult process. Often, these smaller downtown areas have limited parking time and a lot of foot traffic. This foot traffic can make a move more strenuous and untimely. Also, multi-floor buildings in these areas may not have elevators which results in repeated trips up and down the stairs. By hiring a trusted mover near you, you'll solve these issues!
We're Ready To Move You!
Chances are you would be moving downtown for convenience and atmosphere so why not make your move more convenient? Men On The Move will help move you downtown whether it's Detroit or to one of its many wonderful suburbs! We have decades of experience moving in and around Metro Detroit. All you have to do is fill out our free moving quote and we will contact you to work out the details!

Men on the Move is a proud member of the BNI with membership in Farmington Hills and representatives in other chapters, we highly recommend local businesses to join the group.  Being one of the BNI Movers and members,  we see firsthand how the group can help you grow your business. Take a look at how being a member can help you.
About The BNI
Networking can be a huge ally in building your business. BNI offers referral networking that works. Their network is designed to help businesses work together and offer referrals to other members.  Being a member helps you build long-lasting relationships that help your business.  By being a member of BNI, you get to meet mentors and other professionals that can help you grow and build your knowledge.
Advantages of Networking
Networking is always crucial in almost every aspect of life. The old saying it is not what you know, it is who you know has always been somewhat accurate.  But the advantage of BNI, not only will you get to know people you will also learn new things as well.  To build your network, the BNI group offers different options such as in-person, BNI Online, and BNI Hybrid.
BNI in-person is just like it sounds, BNI local chapters hold meetings for everyone to attend in person.
BNI Online has resources and the ability for chapters to meet virtually.
The hybrid method mixes in-person meetings and online to best suit members' needs.
If you would like to attend a local chapter meeting visit BNI.com and find a local chapter close to you for you to attend.
BNI Movers
We hope that Members in other local communities will search for BNI Movers for example. The same can work for you. For Men on the Move, BNI membership produces income from both Residential Moving and Commercial Moves. The networking is incredible. Being a member for years, we can highly recommend BNI for any size of business in any industry. The knowledge you will gain from attending meetings is priceless!
Business Network International Presentation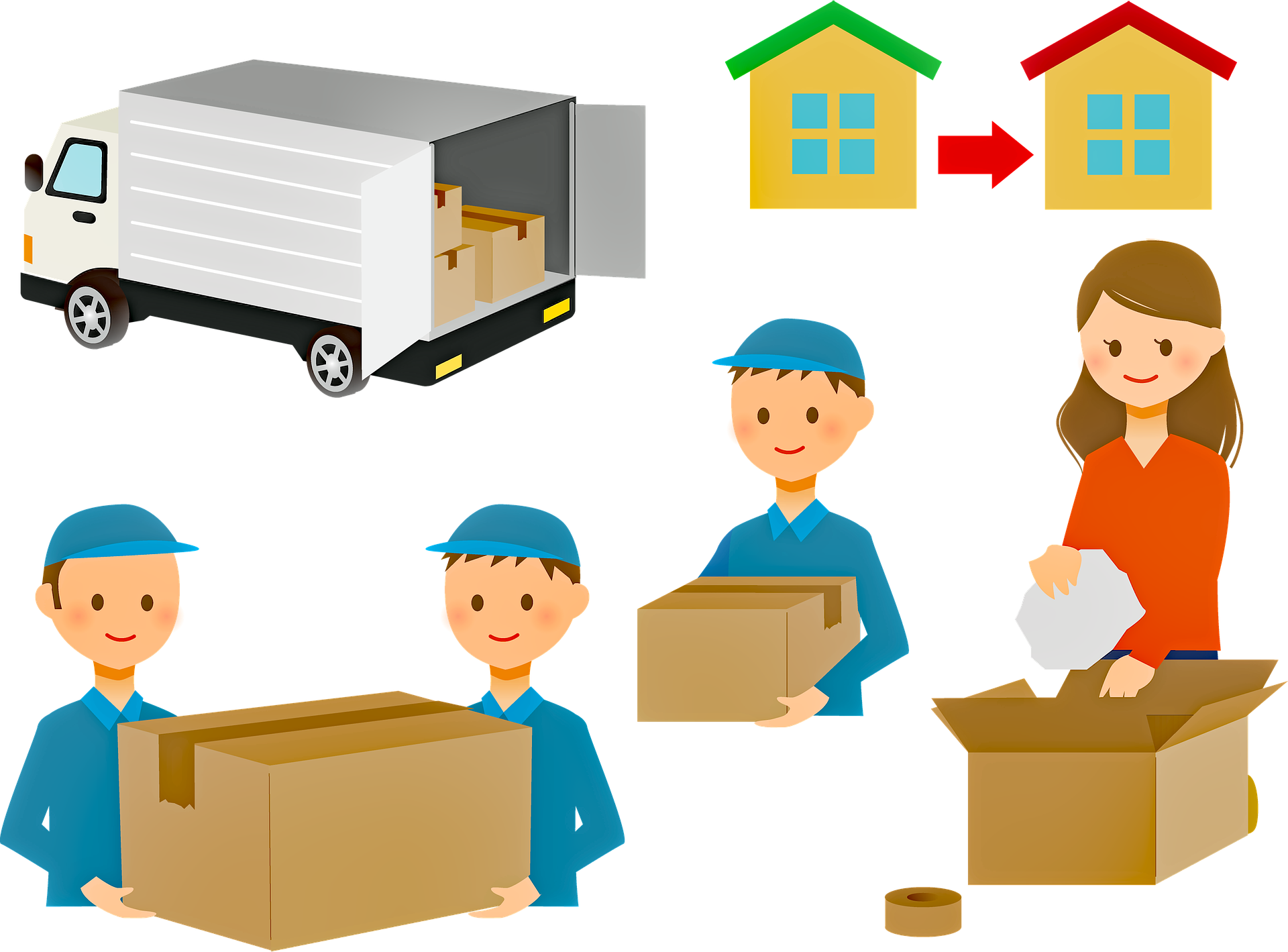 It's important to know what to expect from professional movers. Moving is one of the biggest stressors a person can experience. As a result, many people hire professional movers to make the process easier. However, understanding the expectation of the movers and yourself can make moving a cakewalk. So, what should expect from your professional movers?
Expectations for the Professional Movers
Depending on the moving company, some of the expectations may vary. However, there are a few general expectations that all moving companies should meet. First of all, the movers should arrive on time for the job. Nobody likes to be kept waiting, especially when it comes to moving. While being a few minutes late can be forgiven, if it's going to be longer than ten minutes then the movers should call you. Once the movers arrive, they should have a truck that can fit all of your items in (unless specified otherwise). You should also have at least 2-3 movers from the company.
Now, what they move can vary. While all moving companies will move boxes and furniture, there are a few things that moving companies will not move. For Men on the Move, those items are listed on our non-moveable items. In addition, moving companies can refrain from moving dangerous items Most importantly, they are responsible for moving your items in and out of the moving truck! While there are expectations for the movers, the client also has some responsibilities.
Expectations for You
To make this easy, we are going to use Men on the Move's expectations for clients. First of all, clients are responsible for packing. Pack everything in boxes instead of using plastic or paper bags. For all boxes, they should be:
Shut and tape all boxes. PLEASE call us if you are going to have more than 50 boxes
Clearly mark the destination of each box on the top and sides
Mark boxes containing glass, etc. as "FRAGILE"
After packing, clients are expected to prepare parking for the moving time. You need to reserve an ample amount of space for the moving truck. If the truck needs to use street parking, you need to inform the moving company about any meters so they can be capped by the city. During the winter, you need to clear the parking area and walkway from snow and ice. Contents of desk drawers should be emptied, however, file cabinets and dresser drawers' content can remain (as long as you remove breakable items). If you need the movers to move appliances, it is the responsibility of the client to disconnect them before the movers arrive.
Hire the Professional Movers at Men on the Move
Now that you know what to expect from professional movers, it's time to pick out a professional moving company! Fortunately, you don't need to look any further. For over 30 years, Men on the Move has provided high-quality moving services throughout Michigan. Whether you are moving local, long-distance, or out-of-state, Men on the Move is here to help! We are here to make one of the most stressful life events easier. Men on the Move will help you move in and out of areas like Livonia, Ann Arbor, Canton, Oakland, Plymouth, and other areas throughout Michigan. Ready to have the help of professional movers?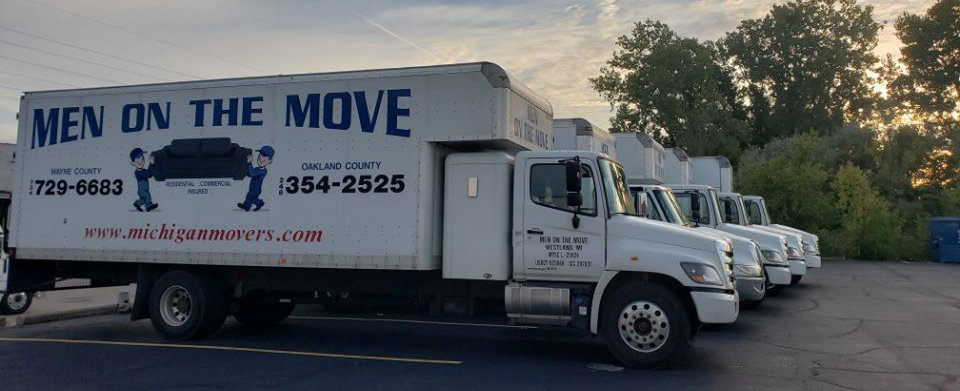 You may know we have our main office in Livonia and service a majority of Metro Detroit. But did you also know we have a location in Ann Arbor?  That is right, we have been servicing the Ann Arbor, Ypsilanti, and Saline area for decades and we can help you move to Ann Arbor this spring or summer. Men on the Move of Ann Arbor is located right off Jackson road.  No matter what part of Ann Arbor you are moving to, we can help!
Move To Ann Arbor With Men on the Move
There are many great reasons to move and live in Ann Arbor.  Of course, one of the many great reasons is health and education.  Ann Arbor is home to the University of Michigan and home to Michigan Medicine.  In addition to medical professionals and students, there is a thriving art community in Ann Arbor.  There is a large Ann Arbor Art Fair each year. Another perk is the city is designed to be walkable. There are many outdoor venues and tons of biking and riding trails throughout the city.
Men on the Move has a professional team of Ann Arbor movers to help relocate you to your new home. For over 30 years, our team has been moving households and businesses to and from their new place.
Choose To Move To Ann Arbor
Of course, when you finally choose to move there, you need a reputable mover to help, and that is Men on the Move. At Men on the Move, we are fully insured and licensed, and pride ourselves on providing the best customer service around.  No matter if you are moving to a flat, apartment, or condo, we can help you. In addition to moving, we can supply you with all the moving supplies you need.
Submit your quote today to beat the spring and summer rush.  By booking now you can guarantee you will get a moving date that suits your schedule. Also, if you are looking to move your business we provide commercial moves as well.  Finally, call our Ann Arbor office today at 734-913-9966 and see what we can do for you!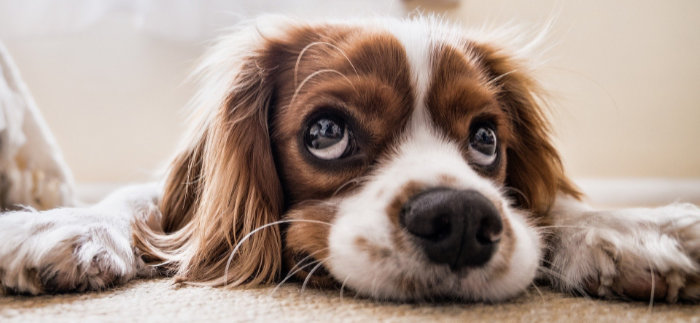 Have you seen Michigan Movers? We are moving all over Southeast Michigan! Also, our customers, friends, and hopefully soon-to-be customers are seeing us! In addition, we have a running contest for everyone. Enter to win a gift card to one of your favorite restaurants! Moving people all over Michigan and to other states has been a great advantage for all of us!
Make Sure You Have Seen Michigan Movers
Our last winner was M. Monseur for the month of March. We want to thank M. Monseur for entering our contest. We have been moving people all around the area of our Great Lakes. Last week we were in Commerce Twp. Michigan moving a customer to New Hudson (Lyon Twp). When you don't live or work in the not so far cities that surround you here in Michigan you don't always realize what this great state has to offer.
While we were in New Hudson our customers were telling us how great their realtor was and what they are excited about around their new home. Just a bit away from the city with lots of trees and golf greens, that's what they are looking forward to. New Hudson is a great place to raise your family.
Whether you like city life like Royal Oak, Ann Arbor, Downtown Detroit, or prefer small towns like Milford, Commerce, South Lyon, or Plymouth Michigan. We are moving customers all over, customers are finding us, snapping pictures, and we are enjoying the ride! If you have any questions about where, how, or what your moving CALL MEN ON THE MOVE TODAY at (734) 744-9547 or get a free quote!!! Finally, we will make this the easiest, safe, and great experience move you've ever had!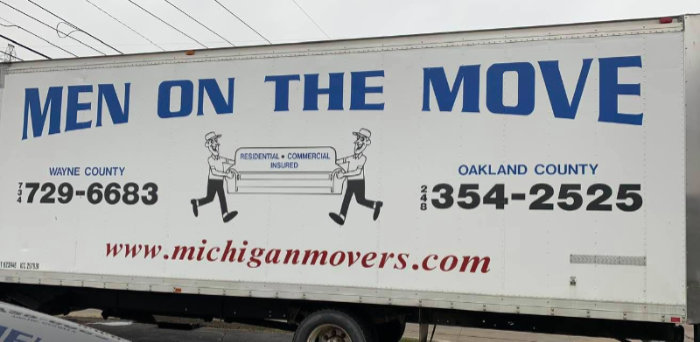 Men on the Move is considered one of the best moving companies in the Metro Detroit area.  Also, when it comes to residential movers, we rank as one of the top companies.  If you are looking to move this Spring or Summer make sure to hire Men on the Move.  Fully insured and licensed, you can rest assured your items will be moved quickly and securely to your new location.
Best Moving Companies and Furniture Movers
When it comes to your furniture, we are experienced furniture movers and handle each piece with care. Also, if you just had your furniture restored, and looking for someone to move it, we are here to help.  Even if you are just looking for piano movers, we can help.
As one of the best residential movers, you can rest easy knowing Men on the Move is handling your move. In addition to residential, we also handle commercial moves as well. If your business is switching locations, contact Men on the Move. We have helped small businesses, as well as large corporate businesses, move from one location to another. What is special about May? May is National Moving Month, book your date today!
All this local moving is well and good, but did you know we also can handle long-distance moves as well. A long-distance move can be considered any move over 40 miles.  Also, we handle out-of-state moves as well. Men on the Move has moved families from Michigan to North Carolina, Texas, Florida, and Ohio to name a few. Men on the Move is rated high on Angie's List, The Better Business Bearue, as well as in Home Advisor.
Even if you are moving equipment like boiler room equipment, we can help. Finally, put all this extensive moving knowledge and know-how to work for you and contact Men on the Move today.  Let us handle all the back-breaking work, while you enjoy your new home and settle in.