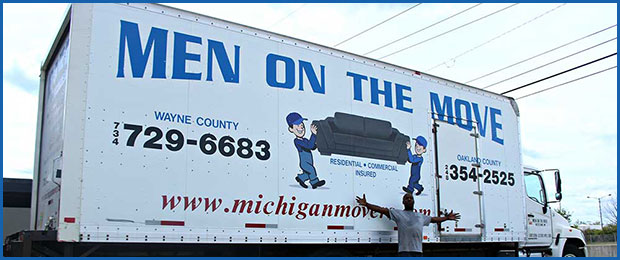 Local Michigan movers, such as Men on the Move Help you moving experience be a safe and easy one. Also, the staff of Men on the Move is courteous and will work to exceed your expectations to guarantee a wonderful moving experience. Here at Men on the Move customer service is our number priority. In addition, we strive to provide you with accurate estimates and professional service.
Not only does Men on the Move provide excellent local moving services, we also offer a no obligation FREE quote, packaging supplies, secure climate controlled indoor storage, short notice or emergency moves and nationwide relocation.
Men on the Move Local Michigan Movers
Whether you are moving to Livonia, Canton, Westland or Garden City, we handle all local moves. Why bother your friends and family to do all the back breaking work? You can just hire Men on the Move and make your next moving experience and enjoyable one. As one of your local Michigan Movers, Men on the Move is one of the most highly recommended. We have received numerous awards for our customer service and we are always eager to serve you.
Benefits of hiring Men on the Move, for your next move are:
Licensed & Fully Insured
7 Days a Week
No Minimums
Short Notice Welcomed
Senior Discounts
Affordable Rates
Local & Long Distances
FREE Wardrobe Usage
Climate Controlled Storage