We bet that you didn't know that National Moving Month is in May, did you?  Well, all through the month of May we get to celebrate National Moving Month – it runs all month, from the 1st through the 31st.  So, what is this month all about?
Moving Month Starts May 1st
Things kick off on May 1st and the celebration mainly focuses on the moving industry.  It is an excellent way to set off the moving season. Also, most people happen to relocate in the spring and summer months.  In fact, almost 44 million people pack everything up and move to a new home or neighborhood each year in the United States alone.  (And most of these moves are initiated during the peak season – between May and September.)
So, what else does this National Moving Month entail?  Well, during this special period, most moving experts will be focused on not only providing relocation services to residents and businesses but also educating Americans like yourself about how to plan a successful and efficient move, sharing tips on packing, and how to handle your children's concerns during a move. In addition to being able to learn more about the moving industry and making your next relocation even easier, this month is a great time to find specials from various moving companies and get lots of extra support for relocating.  Though it may not be a widely known celebratory month, we sure like it!
For great prizes make sure to check out our monthly giveaways! Also if you are looking to plan the perfect move this month, make sure to read our guide. At Men on the Move, we have over 25 years of experience to put to work for you.
Move With The Experts At Men on the Move
At Men on the Move, we want your next move to go as smoothly as possible. Customer service is our number one priority. Also, you can rest assured your items will be moved quickly and safely. When looking for a professional mover, you want one that is insured and licensed like Mne on the Move. With over three decades of moving families in Metro Detroit, Men on the MOve is the best choice for your move. Finally, call us today at (734) 744-9547 or request a quote today!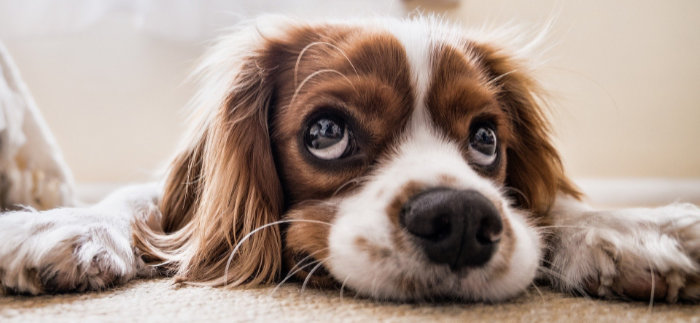 Have you seen Michigan Movers? We are moving all over Southeast Michigan! Also, our customers, friends, and hopefully soon-to-be customers are seeing us! In addition, we have a running contest for everyone. Enter to win a gift card to one of your favorite restaurants! Moving people all over Michigan and to other states has been a great advantage for all of us!
Make Sure You Have Seen Michigan Movers
Our last winner was M. Monseur for the month of March. We want to thank M. Monseur for entering our contest. We have been moving people all around the area of our Great Lakes. Last week we were in Commerce Twp. Michigan moving a customer to New Hudson (Lyon Twp). When you don't live or work in the not so far cities that surround you here in Michigan you don't always realize what this great state has to offer.
While we were in New Hudson our customers were telling us how great their realtor was and what they are excited about around their new home. Just a bit away from the city with lots of trees and golf greens, that's what they are looking forward to. New Hudson is a great place to raise your family.
Whether you like city life like Royal Oak, Ann Arbor, Downtown Detroit, or prefer small towns like Milford, Commerce, South Lyon, or Plymouth Michigan. We are moving customers all over, customers are finding us, snapping pictures, and we are enjoying the ride! If you have any questions about where, how, or what your moving CALL MEN ON THE MOVE TODAY at (734) 744-9547 or get a free quote!!! Finally, we will make this the easiest, safe, and great experience move you've ever had!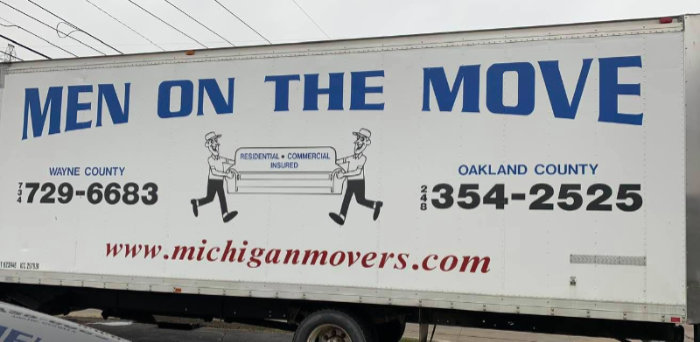 Men on the Move is considered one of the best moving companies in the Metro Detroit area.  Also, when it comes to residential movers, we rank as one of the top companies.  If you are looking to move this Spring or Summer make sure to hire Men on the Move.  Fully insured and licensed, you can rest assured your items will be moved quickly and securely to your new location.
Best Moving Companies and Furniture Movers
When it comes to your furniture, we are experienced furniture movers and handle each piece with care. Also, if you just had your furniture restored, and looking for someone to move it, we are here to help.  Even if you are just looking for piano movers, we can help.
As one of the best residential movers, you can rest easy knowing Men on the Move is handling your move. In addition to residential, we also handle commercial moves as well. If your business is switching locations, contact Men on the Move. We have helped small businesses, as well as large corporate businesses, move from one location to another. What is special about May? May is National Moving Month, book your date today!
All this local moving is well and good, but did you know we also can handle long-distance moves as well. A long-distance move can be considered any move over 40 miles.  Also, we handle out-of-state moves as well. Men on the Move has moved families from Michigan to North Carolina, Texas, Florida, and Ohio to name a few. Men on the Move is rated high on Angie's List, The Better Business Bearue, as well as in Home Advisor.
Even if you are moving equipment like boiler room equipment, we can help. Finally, put all this extensive moving knowledge and know-how to work for you and contact Men on the Move today.  Let us handle all the back-breaking work, while you enjoy your new home and settle in.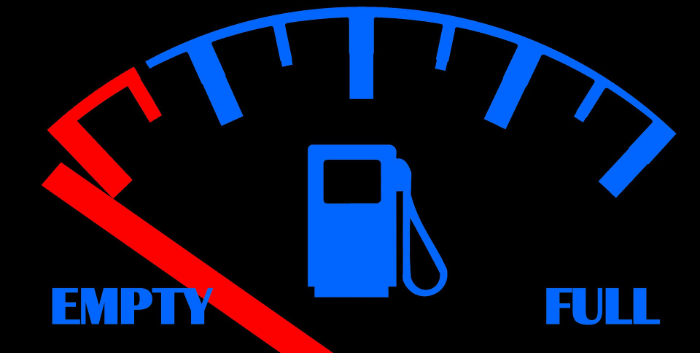 If there is one positive from all the craziness lately is the drop in gas prices. Of course, there is not a person out there that hasn't been affected by fuel costs. The cost of fuel affects the daily commute, heating your home, and even groceries.  Indirectly, the cost of fuel can even affect the cost of your relocation since it affects many moving companies directly.
Fuel Prices Affect Moving
Across the board, moving companies are feeling the pinch since fuel costs are incorporated into their daily operations.  Movers must pay for plenty of fuel. Traveling back and forth for in-home estimates and the packing up, unloading, and transport of moving trucks are just some examples.  Overall, the moving industry has a pretty small profit margin and higher fuel costs cut into that profit even more.
Fuel prices can really affect long-distance moves. Any move that is longer than 40 miles one way or out of state can be classified as a long-distance move.  Fuel is a big consideration when receiving a long-distance quote.
For a long-distance move, the quote is not based on actual items but more on the actual weight of the move. For the best and most accurate quote, try to fill out the form located here, to the best of your ability.  Even if you are not moving out of state but are still moving over 40 miles you will need to fill out the long-distance form. The form will walk you from room to room asking about items in each room.
Finally, in these tough times, we here at Men on the Move are here for you. Currently, we are operating and follow all safety precautions set by the CDC. By booking your move today you can save some while fuel prices are low.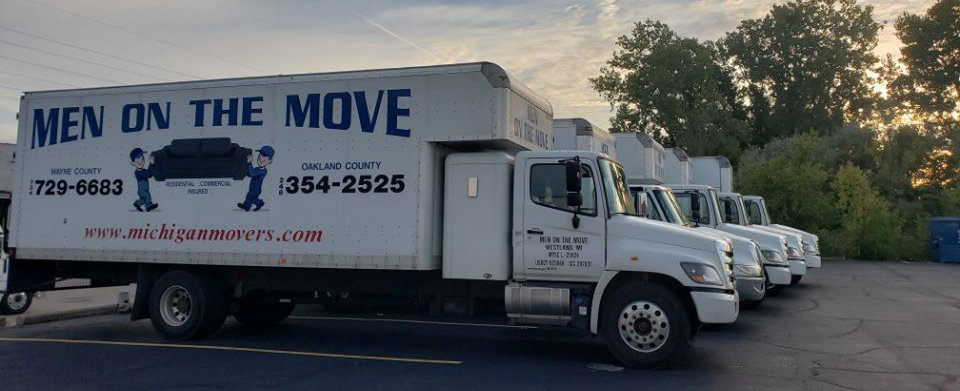 You may know we have our main office in Livonia and service a majority of Metro Detroit. But did you also know we have a location in Ann Arbor?  That is right, we have been servicing the Ann Arbor, Ypsilanti, and Saline area for decades and we can help you move to Ann Arbor this spring or summer. Men on the Move of Ann Arbor is located right off Jackson road.  No matter what part of Ann Arbor you are moving to, we can help!
Move To Ann Arbor With Men on the Move
There are many great reasons to move and live in Ann Arbor.  Of course, one of the many great reasons is health and education.  Ann Arbor is home to the University of Michigan and home to Michigan Medicine.  In addition to medical professionals and students, there is a thriving art community in Ann Arbor.  There is a large Ann Arbor Art Fair each year. Another perk is the city is designed to be walkable. There are many outdoor venues and tons of biking and riding trails throughout the city.
Of course, when you finally choose to move there, you need a reputable mover to help, and that is Men on the Move. At Men on the Move, we are fully insured and licensed, and pride ourselves on providing the best customer service around.  No matter if you are moving to a flat, apartment, or condo, we can help you. In addition to moving, we can supply you with all the moving supplies you need.
Submit your quote today to beat the spring and summer rush.  By booking now you can guarantee you will get a moving date that suits your schedule. Also, if you are looking to move your business we provide commercial moves as well.  Finally, call our Ann Arbor office today at 734-913-9966 and see what we can do for you!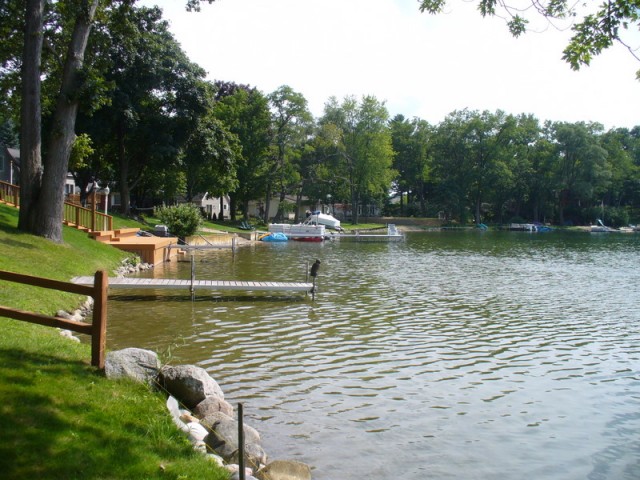 Thinking of summertime gives you that itch, one that you want to scratch all the way till you get there! To the lakes we mean! Have you been thinking about moving? Now is the perfect time to look for and move into an Oakland County lakefront home. Do you also live in Oakland County already? Maybe you on Commerce Lake or Lake Sherwood which are two of the smaller lakes in Oakland County but very recreational.
Beat the summer rush, and move now! You can guarantee your moving date and prices if you choose to book now instead of waiting until the dead of summer. In addition, if you book your move now you will have peace of mind that your belongings will be moved quickly and efficiently.
Oakland County Lakefront Home
We can move you anywhere on or by any Oakland County lake! Maybe you just want to check out living on other waterfront homes and take your watercraft to a different lake. Like the biggest lake in Oakland County; Cass Lake or Pontiac Lake which both have Michigan State Parks on them. There are a few lakes that connect, making it seem like a larger lake; Sylvan Lake and Otter Lake, Maceday Lake and Lotus Lake, and North and South Commerce Lake. All these lakes have homes and people moving to different homes in Oakland County let our experienced lakefront Oakland County Michigan serving movers help move your home today.
Whichever move you want to make our movers are prepared to move you and all your belongings with the best care around! We are experienced with moving outdoor furniture, fire pits, watercraft, and much more! Finally, call us today for a free quote and see how we can help move you around our amazing Michigan Oakland County Lakes!