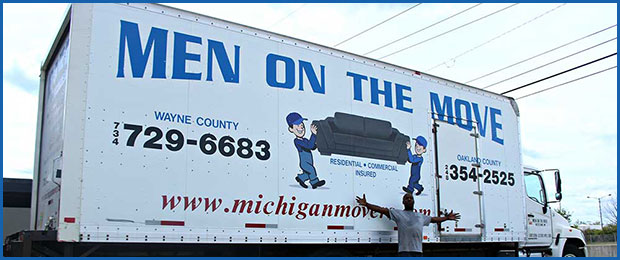 When looking for the best local movers in Canton Michigan, look no further than Men on the Move. Canton is a beautiful township with great reasons to move to. Way back in 1834, Canton became an official Michigan township. Funny fact, Canton name comes from a city in China.  In the 1800's the United States had a bit of a fascination with Chinese cities and names. So a lot of our cites are named after them.
There are many great reasons to move to Canton, such as low unemployment rates, home values 91% higher than the state average, and a great school system. Choosing to raise a family in the Canton Township area is a great choice. To make your move to Canton go smoothly as possible you should hire Men on the Move, professional local movers!
Best Movers In Canton Michigan
At Men on the Move, we have been moving happy families to their new Canton homes for over 30 years. In addition, we have one of the highest customer satisfaction ratings for a moving company in the state. We have been the recipient of the Angie's List Super Service Award on many occasions.  Also, Metro Times has recognized us as one of the best moving companies in Michigan. Along with this, you can see our high rating on the Better Business Bureau website.
We believe in quality service and superior customer service. At Men on the Move, we can handle every aspect of your move, from packing, to loading and to unloading we do it all. Do not be fooled by some of these fly-by-night non-insured moving companies. Hire the local Canton Moving company that is fully insured and accredited and that is Men on the Move.
Finally, here at Men on the Move, we can handle any type of move, from commercial to residential we do it all. Call us today at 734-744-9547 and see what Men on the Move can do for your move to Canton Michigan.