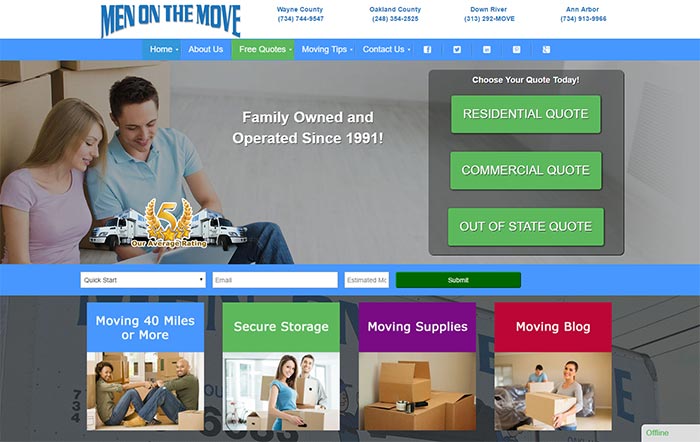 You may have noticed that Men on the Move has gone with a new look this year. For 2017, we decided to freshen up our website and give customers an easier more appealing site to navigate. At Men on the Move, we want to take the hassle out of moving and by providing you with an easy way to contact us is a priority to us.
New Features and New Look
Of course, no matter what city or area you live in we have a number for you to call. Don't want to fill out a quote form? No problem, look right across the top of our site for any of our four phone numbers. In addition, we always have a moving expert ready to take your call and help you with any questions you might have. Need a quote fast? Use our easy quick start quote, all you have to do is select the quote you want and hit submit and it will take you right to your form.
Already know the quote you want? Simply select one of the green buttons and away you go to the quote you need. Also available, if you look at the bottom right, we have online chat, even if it says offline, feel free to leave us a message! If you need to move over 40 miles, secure storage, moving supplies, or like to read our blog, the nice large icons will take you there.  Also, you can learn what others have said about Men on the Move by scrolling down and reading our testimonials.
The next time you are looking for a qualified mover, remember Men on the Move. Furthermore,  Men on the Move is the recipient of Angie's List Super Service Award as well as voted Best of Detroit by the Metro Times. Finally, support a veteran owned and operated business and hire Men on the Move the best local mover in town!

We are happy to announce that Men on the Move is celebrating our Quarter of a Century Anniversary! Also, for those 25 years we've been offering the Metro Detroit area high quality moving services for all moves. We've expanded, moved and have gained new services. Such as our packing and unpacking services for the Metro Detroit area. 
In other news Celebrating 25 Years….
The good news just keeps on coming! Did you see some of the news articles that Men on the Move has been featured in? We recently were featured in Hometownlife and in the Westland Chamber of Commerce Newsletter for our longstanding place in the local community and long record of local involvement. Also, we were happy to sit down with local news affiliates to talk about us as the people behind the company.
We talked with Hometownlife about the basis of our company and what makes us different from the other groups of movers. Also, we told them about how we can help you with any type of move you might have, local or long distance, and that we also offer packing services, and packing supplies to all our customers. At Men on the Move, we were happy to talk about how we are fully licensed for local and long distance moves in the Metro Detroit and greater Michigan area.
At Men on the Move we are always concerned about customers and clients being duped by an unlicensed mover. We were more than happy to talk about it and get to chat about how we started as a company and how we built our company up over time through our great customer service and our professional staff. We talked about our humble beginnings in the Westland area and our Livonia expansion. Our favorite part was when we were able to share some of our favorite memories from the last 25 years.
We enjoyed being featured by Hometownlife and Westland Chamber of Commerce Newsletter and thank them for the article! 
If you need help with your next local move, then look no further! We can help you with your next residential or commercial move. In addition, we can handle large local moves and big long distance moves as well! Finally, we're licensed and certified and ready to help!
Click here for a free residential moving quote
Click here for a free commercial moving quote