If you have a mother, father, grandmother, or grandfather that either wants to be closer to you and other relatives, or you prefer it that way, it may be time to consider a move. Whether you want to move into a house, apartment, or senior living center closer to a family member's location, look for no other high-quality senior citizen moving company in Novi, MI to make the move as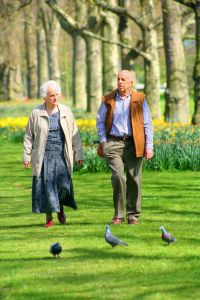 easy and careful as possible.
We pay attention to detail at Men on the Move. Also, we have experience moving all types of families – no matter what age – into all types of living areas. As one of the best residential moving companies in MI, one of the many areas we excel in is senior relocation in Novi, Michigan.
Changes in lifestyle, retirement, or medical status are just a few of the possible reasons to consider relocating. Relocating from Warren, MI to Novi, MI or any city in between if you are a senior citizen. If the home you have lived in for years is a bit too big, spacious, and expensive now that your children have all grown up and moved out, we understand your decision to hire local senior citizen movers.
The home repairs and pricey utility bills are reason enough to downsize when moving. Although leaving your house of many years may be a bit difficult to cope with, your wallet and checkbook will be relieved. Besides, if your health is declining or is unstable, moving closer to family or to a location where quality health care is more accessible could extend your life.
Men on the Move Preferred Moving Company of Seniors
So why not hire a professional Mich. moving company that provides senior citizens moving assistance in Novi, Michigan? It doesn't matter much to us where you're moving, or why. Senior citizens planning a move to Plymouth, MI, from Novi to Warren, MI or any other relocation in Oakland or Wayne County is nothing that's out of our realm. When we do a move, our professionals take the utmost care of your belongings, so much so that you would think they belonged to us!
Contact us today to acquire a free residential moving quote if you're looking for a reliable senior citizen moving company in Novi, MI.