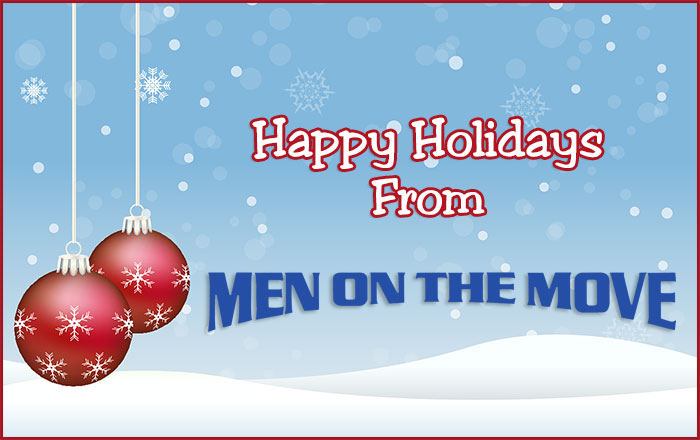 Holiday moving is not an ideal situation. Sometimes it just cannot be avoided. Life events such as a new job or promotion may require you to move during or right after the holidays. A major family event might also influence your decision to move during the holidays. The holidays alone can be a stressful time, and adding moving on top of that just adds to the stress. The good news is there are some benefits to moving during the holiday season.
Holiday Moving Benefits
While friends and family may be too busy during the holidays, consider that moving companies tend to slow down. So by moving during the holidays, you may be able to get some discounts from professional moving companies.  If you are a business relocating to a new location, what better time to move than when most of the staff is off for the holidays. You can contact Men on the Move for a free commercial quote at any time.
Traffic may also benefit you when moving. With so many people visiting family out of town, local traffic in your area may ease up. With less traffic means a quicker move.
There are also ideas you can do that makes transitioning into your new home during the holidays fun. Instead of sending Christmas cards, you could send personalized new address cards. Or holiday newsletter announcing your new home and address to friends and family. Also, let the kids know, especially the young ones, that Santa is well aware of their new home! If the stress from moving and the holidays get you down, take time out and explore your new town. Visit some of the festive events around town.
Book your move t0day, so you can be in your new home in no time and be able to enjoy your holidays! From all of us at Men on the Move, we would like to wish you and your family, a very happy holiday!
Posted In: holiday moving, Moving
Tags: Christmas moving, Moving During The Holiday, New Year Moving