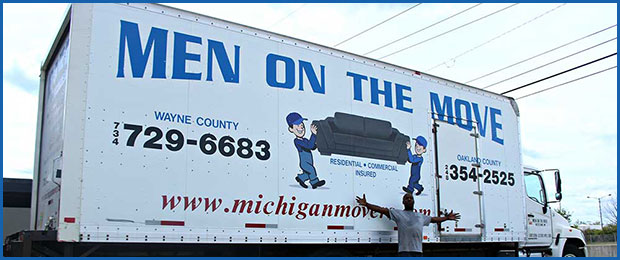 When talking to our phones, tablets, or Google Home, most of us have a habit to ask it to find things near me. Usually, the device can determine where you are approximately and give you results that may fit your needs. Now sometimes these devices base your location on your IP address, which may or may not be where you actually are. For example, if you search local moving company near me, and your IP says Troy, Michigan, but you are actually in Canton, Michigan that could be a problem.  So, for a more accurate result, you should say local moving company near me in Livonia.
Men on the Move Is A Moving Company Near Me
Now that we have a good grip on searching, let us introduce you to a local moving company, Men on the Move. Men on the Move has been servicing local cities for over 25 years. Also, Men on the Move is one of the most highly rated moving companies in South East Michigan for customer service. In addition, we service cities such as Livonia, Canton, Novi, Farmington, and Westland to name a few.
Since 1991, Men on the Move has been providing quality moving services for local Michigan cities. No matter what type of move you are needing, such as a residential move, commercial move, out of state or long distance, we can help. This American Veteran owned company is fully licensed and insured. Why risk your valuable belongings with some fly by night moving company, when you can hire one of the most awarded moving companies in Michigan.
The local moving company near me is always Men on the Move. No matter if you are moving to Wayne County (734) 744-9547, Oakland County (248) 354-2525, Down River (313) 292-MOVE, or Ann Arbor (734) 913-9966,  we can help you move. You do not need a full move but need packing supplies or an indoor storage unit? We can help with that as well, we have moving supplies and storage available. So, make your next local move a smooth and hassle free one by hiring Men on the Move, you will be glad you did!