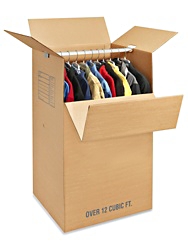 Are you looking for wardrobe usage in Livonia? Men on the Move has wardrobe boxes for you. Moving clothes can be challenging because you risk damaging your clothes when packing them into boxes. Don't mess up your nice clothes, use Men on the Move. We offer free wardrobe usage.
What does Men On The Move mean by free wardrobe usage or What is a Wardrobe Box?
Wardrobe usage refers to usage of wardrobe boxes. Wardrobe boxes are the best way to transport your clothes in a move from one place to another without the clothes getting damaged or wrinkled.  So if you are moving from Livonia or to Livonia, don't forget to inquire about wardrobe usage. A wardrobe box is a large box with an opening and a metal rod inside it to hang your clothes. Wardrobe boxes make moving your clothes from one closet to another very easy.
The best part about hiring Michigan Movers is that we provide you and your family with free wardrobe usage in Livonia! Included in your move is 4-6 wardrobe boxes that are about 2.5 cubic feet. Each wardrobe box can transport a decent amount of your closet space. The use of wardrobe boxes are becoming extremely popular. We sell them for about $10.00 a box, if you want to keep them after we are finished moving you. The average person that hires Men On The Move saves around 40-60 dollars because we include free wardrobe usage with your move. Contact Men On The Move now for a free quote for your residential move.