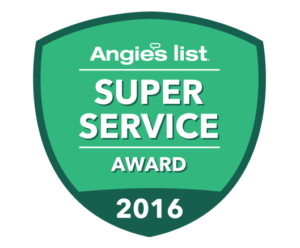 MEN ON THE MOVE Earns Esteemed 2016 Angie's List Super Service Award. This award reflects company's consistently high level of customer service
Men on the Move has earned the home service industry's coveted Angie's List Super Service Award, reflecting an exemplary year of customer service to members of the local services marketplace and consumer review site in 2016.
This achievement is particularly significant as Angie's List experienced unprecedented member growth in 2016. More than 1.6 million consumers, many of whom were eager to quickly hire highly qualified service pros, joined Angie's List after the company added a new, free membership tier.
"Companies that can meet higher demands without missing a beat in their exemplary performance standards truly do stand apart from their peers," said Angie's List Founder Angie Hicks. "Only a fraction of the moving and storage companies in Metro Detroit Area were able to do it."
Angie's List Super Service Award 2016 winners have met strict eligibility requirements, which include an "A" rating in overall grade, recent grade, and review period grade. The SSA winners must also be in good standing with Angie's List, pass a background check and abide by Angie's List operational guidelines.
"Men on the Move is proud to have won this award for the 5th straight year, Awards like this are because of the hard working dedicated people I have working for me"
– Gary Bulson – General Manager/Owner
Service company ratings are updated daily on Angie's List as new, verified consumer reviews are submitted. Companies are graded on an A through F scale in areas ranging from price to professionalism to punctuality.
For more than 21 years, Angie's List restricted access to its verified reviews to consumers who paid membership fees. When the company removed that barrier, some companies worried that the new, non-paying members would not be as engaged as members of the past. Experience has shown, however, that these newly added members are just as engaged – across all age groups – as prior members. Also, because the company continues to adhere to its review verification process, there has been no degradation of review quality.
"The biggest change at Angie's List is that we are connecting, even more consumers to high-quality service professionals," Hicks said. "And that's good for everyone."
Congratulations on becoming a homeowner! Now that you own your own home, you need to supply yourself with the proper tools to and items to maintain and live in your home. We want your first foray into home ownership to be a success. You'll need these essential items for your new home.
Before we get into the list, how are you moving into your new place? Don't put your friends and family out for a favor, hire a moving company. Men on the Move can help you move into your new home quickly and as stress-free as possible. Get your free quote for your move into your first home today.
Things That Every Homeowner Should Own
Fire extinguisher – One of the first things you'll need for your new home is a fire extinguisher. You want to be prepared for any situation you may encounter in your new home, fire being a big one. Make sure you have one per floor and make sure they are easily accessible
Tarp– You'd be surprised how handy a tarp will be at your new home. Whether you're painting, doing yard work, or going camping a tarp is very handy to have around. They'll last forever  
Toolkit- If you haven't already started accumulating tools and other DIY items now is the time to start. Hammer, screwdrivers, tape measure, and
-Power drill
-Stud finder (very hand for hanging photos and TVs)
-Table Saw
Ladder– Never thought you'd need this while you were renting an apartment, but when you own a house it's essential. A ladder will come in handy when changing light bulbs, hanging photos, and hanging decorations, and so much more.
Emergency kit – This includes things like a first aid kit, headlamp,  flashlight, matches, candles etc. This should be your go-to kit when something happens. Electricity goes out, people get hurt, and things happen so be prepared. Here is a great resource for putting together a kit
So these are some of the basics, and we're sure you'll think of more as you move into your new place. Just remember if you need a local mover who can help make your big move happen quickly and efficiently Men on the Move is available for hire!
When it comes to relocating, many Michigan residents are downsizing, while others are ready to upgrade to a larger home. If you are looking to upgrade to a larger home in a community that offers upscale living, choosing moving companies to Birmingham, Bloomfield Hills, Berkley may be perfect for you! Each city offers low crime rates, superior school systems, and beautiful homes, one of which may soon be yours!
Are you ready to move to Birmingham, Berkley, or Bloomfield Hills?
Have you already purchased your dream home in Berkley, Bloomfield Hills, or Birmingham, MI? If so, it is time to consider hiring a professional moving company. Wouldn't you want to hire a company with experience in moving families into upscale homes? Men on the Move has been helping residents who are moving to Birmingham, Berkley, or Bloomfield Hills for over 20 years. Check out some of our customer's testimonials here.
Knowing that your belongings are in good hands during transport will help eliminate some of the stress that naturally comes along with moving. Whether you are short on time, or not physically able to handle moving your things on your own, we've got you covered. Affordable moving to Birmingham, Bloomfield Hills or Berkley is available for families and seniors looking to hire a moving company. as well.
Avoid moving scams in upscale locations!
When moving to upscale cities there are many moving scammers who will try and get over on you. They often target those moving to nice homes as they assume you have nice things and a lot of money. Although this may not always be the case, they don't know that. There are many red flags to look for when hiring cheap moving companies in Bloomfield Hills, Berkley or Birmingham to ensure that you do not become a victim. Check out some of our moving tips or tips for avoiding moving scams in Michigan.
As a professional mover for over 25 years, we deliver at a fair price and with great service!