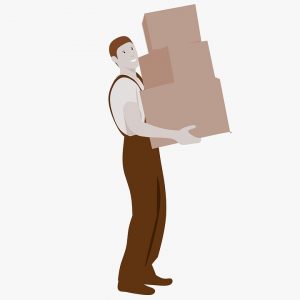 We know how long the moving process can take. in addition, we also know how stressful moving can be. Here at Men On The Move, we try to make moving the easiest it can be for you and your family as quick as possible!
Here are some tips with timesavers on your move: 
Pack everything in boxes. Do not use plastic or paper bags. We have boxes available for purchase if you need any extras.

Shut and tape all boxes and be sure to call us if you are going to have more than 50 boxes that way we can prepare.
Have parking areas cleared for the trucks. Let us know if there are any parking meters or other parking prohibitions in advance.
Crate all of your animals to keep them out of the way while our movers move the furniture into our truck.

Clearly, mark the destination of each box on the top and sides so we can ensure that it goes to the right place and you will not have to move it later on.

Mark boxes containing glass, china, or pottery as "FRAGILE". We are not responsible for any valuables that should be harmed due to not being packaged properly.

The contents of dresser drawers or other furniture must be emptied. Unless the weight is too great, file cabinets can generally stay packed, however, the doors must be either locked or securely taped shut to avoid spilling. Clothing may remain in drawers, but fragile items must be removed. This includes jewelry, perfume, and other amenities. 

Please have all items ready to be moved in a clean condition. We need to keep our moving blankets and other moving equipment clean. Also, please provide entrance mats to keep your home clean. Our movers are not responsible for staining or other uncleanliness. 

Our movers have the right to refuse to move any dangerous items. We cannot transport flammable liquids so, be sure to empty gas from gas tanks, grills, and lawnmowers.

Disconnect all appliances before the movers arrive. We will not disconnect the gas or water lines. In order to save time, have these already disconnected by either a maintenance worker or a handyman.
Contact
Are you planning on moving into a new house or dorm? Call Men On The Move today to receive a free quote. Finally, if you have any questions about these timesavers or would like to learn more, contact us today! We cannot wait to hear from you!