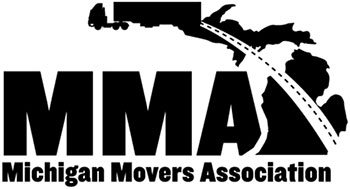 Men on the Move has been a member of the Michigan Movers Association for quite some time. The Michigan Movers Association is a great resource to help you find professional local movers in your area all throughout Michigan.  The Association is a non-profit association that represents professional movers and other service providers in Michigan. Also, they are committed to gathering together organizations that will provide services to the industry and the member moving companies.
Men on the Move Is a Member of The Michigan Movers Association
By being a member, Men on the Move has access to a full range of service providers through the network. Of course, this, in turn, helps us service our clients. Also, by being a member, we are kept up-to-date on all moving laws, regulations, and issues that pertain to our industry. There are some important questions that any home owner wanting to move should consider on their site. An important one that comes to mind is how do I know the mover I hire is legitimate?
This question is asked more than you think, due to the fact there are some shady characters out there. A good measure is to know that the company you hire is insured. Also, they come with reviews and references, much like Men on the Move! In addition, you can check the Better Business Bureau to see if they have any complaints. When you hire Men on the Move you know you are getting a qualified and insured professional mover that will get the job done.
Men on the Move is a professional moving service provider that can move you locally or long distance. Also, we pride ourselves on our outstanding customer service. Contact us today or give us a call at 734-744-9547 and see what a professional mover such as Men on the Move can do!