Picture this:
You're on the porch of your waterfront home and as you sit there, you hear the crashing of the waves, smell the freshness of the water and feel the cool night's breeze rolling off of the rocks. You think to yourself, "this is the life." And yes, indeed it is, however, there are some pros and cons one should know before owning a riverfront home.
Pros and Cons of Waterfront Living
There are many benefits of living on the river, especially the Detroit River. One of the many advantages is that you get to experience tranquility. The atmosphere is just right and the scent of the air greets you with a peaceful level of calmness. To top it off, there's a view that lures you in with its beauty, through any weather condition.
Unfortunately, with any good thing comes a cost. One of the downsides of living on a waterfront is that it's very costly. With the general maintenance expenses, it could possibly affect and hinder you from truly experiencing the full riverfront lifestyle. Things such as animals, reptiles, and pesky insects are also something you may want to take into consideration.
Living on the Detroit Riverfront
Both Trenton and Grosse Ile are cities in Michigan that have real estate homes along the Detroit River. When looking for a riverfront home, some of the things to keep in mind is how secluded and safe the property is.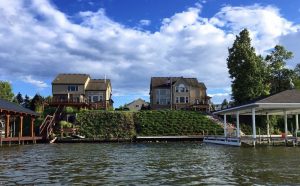 Over the years, Trenton has become known for its limestone output. The city measures to be about 7.5 square miles, with the entire east side of the city bordering the Detroit River. Grosse Ile, on the other hand, is an island in the middle of the Detroit River that borders Lake Erie. This city is fairly popular for its residential, upscale community look.
Looking to Move Near the Detroit Riverfront?
Are you currently looking to buy a home along the Detroit River? Waterfront living is a lifetime goal for many and is found attractive to most. If you are interested in learning out more about riverfront living, please feel free to contact us or fill out our free quote today.