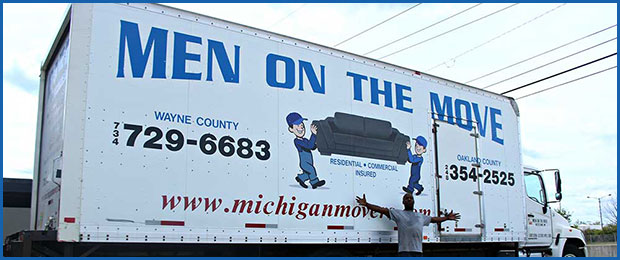 From residential moves to commercial moving services, Men on the Move provides high-quality service and dedication to each and every job. Also, commercial moving can be tough, especially if you plan on moving your entire office space or industrial business by yourself. Having the professionals at Men on the Move do the job for you will result in a quick and easy movement of your commercial business.
We provide high-quality Commercial Moving Service
From planning your commercial move to completing your move Men on the Move is dedicated to top-notch customer service and quality assurance.
Men on the Move provides tips and checklists to ensure you are prepared for your commercial move.
We use proper equipment to ensure the safety of your belongings.
Whether you are moving heavy equipment or small office furniture, Men on the Move has the proper truck for your commercial move.
With lift gate trucks, 4 wheel dollies, safe jacks, along with many more moving necessities on hand, Men on the move has all of the proper equipment to move all of your belongings within your commercial space, safely and efficiently.
We provide customers with only professional movers to get the job done.
Each staff member at Men on the Move is clean-cut, courteous, and well-trained.
We hire only experienced movers who will always arrive on time and ready to work.
We guarantee that all staff members will take exceptional care when moving your commercial items, and do everything in our power to make sure your items arrive safely at your commercial space.
Finally, to receive a free commercial moving quote simply fill out our online quote form. This will allow Men on the Move to beginning planning your move. In addition, as well as provide an estimate for moving costs.