Men on the Move is proud to announce that we have been selected as Business of the Month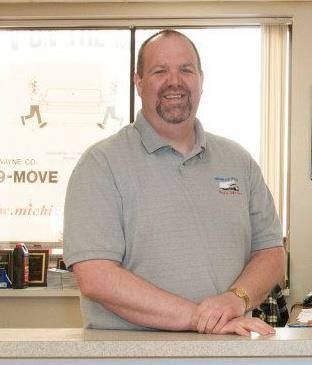 for the month of February by State Representative Robert Kosowski. State Representative Kosowski is elect of District 16 (Westland). He said that our owner "Gary Bulson is well deserving of our monthly award and is always helping out the community."
We are thrilled to receive this honor. Also, we will continue to put our best effort forward to serve Westland and our new community in Livonia. This also would not be possible without the help of the Men on the Move employees. Most of our employees have been around for years standing right by Gary Bulson serving the community.
Business of Month
Men on The Move will also like to thank the Westland Chamber of Commerce for congratulating Men on The Move on their Facebook page and sharing these kind words, " Gary somehow finds time to serve on our Board of Directors, the Wayne/Westland Salvation Army Advisory board, is active with the Westland and Michigan Jaycees and a member of the Westland Rotary Club. A big guy with a big heart!!"
Thank you for your recognition Representative Robert Kosowski and we will look forward to serving the communities of Westland and Livonia for years to come. Finally, request a quote today and see why Men on the Move is the business of the month!
P.S. Men on the Move has finished moving to Livonia. Our new address is 12400 Merriman Rd. Livonia, Mi 48150. Come visit us!
I remember sitting in my office on Ford road in Westland as the UPS man came in and said did you hear a plane hit the World Trade Center building. I then turned on WJR and was listening to everything unfold. It was then that I heard a second plane crashed into the Trade Center. I left my office and went the the Elementary School to pick up my daughter. I ran into a friend of mine who was campagning outside the school because it was also primary election day. I told him what had happen and he was shocked as well. I remember so many people there to pick up there kids it was crazy. I got into the house just as the first tower fell. I remember feeling this isn't happening. I spent the rest of the day glued to the tv hoping that everything would be ok but knowing full well it was already so impactful to so many. I know as I home this weekend I will be thinking of those who gave so much that day.
I came across this article and with May quickly approaching I wondered what other people's views were on this subject.
---
Smoking Ban to Benefit Michigan Citizens
Beginning May 1, Michigan will become the 38th state to ban smoking from all workplaces, restaurants, and bars. Exceptions include gambling floors of casinos, cigar bars, tobacco specialty stores, home offices and motor vehicles. This bill is a milestone in recognizing the importance of minimizing exposure to secondhand smoke for everyone.
This bill advocates for workers' rights to a safe and clean working environment. For too long, bartenders, waiters and other employees of these establishments have had to suffer through their work days and nights in a smoke-filled environment. Why have the rest of us been able to enjoy clean air and they have continued to suffer? Spending 30 minutes in a smoke-filled room is the equivalent of a nonsmoker smoking one cigarette. Therefore, these nonsmoking employees are actually smoking around 16 cigarettes in an eight-hour shift. This bill shows these employees that Michigan cares about their health and well-being and respects their right, just like anyone else, to work in a smoke-free environment. Both smokers and nonsmokers alike should feel good about the opportunity to support equality in the workplace.
Some smokers, although not most, argue that this legislation is unreasonable.
But aside from causing a minor inconvenience, they, too, are benefiting. Most smokers I know don't enjoy secondhand smoke or appreciates smelling like an ashtray when they return home from a night out. Furthermore, smokers still can enjoy their cigarettes outside just like they would while shopping or going to a movie or sporting event.
As a nonsmoker, the argument for a smoke-free bill is obvious. When returning home from a bar, restaurant or bowling alley, I won't smell like a cigarette, suffer from itchy red eyes, a scratchy throat or restricted breathing and won't need to be concerned with possible health conditions as a result of inhaling secondhand smoke. In Michigan alone, thousands of people die each year from illnesses caused by secondhand smoke, according to the Michigan Department of Community Health. Nonsmokers' health no longer should be at risk because of a decision that other people are making. They deserve the right to enjoy their evenings in a clean, smoke-free atmosphere.
You can support the smoke-free Michigan bill by planning a night out with friends. On May 1 to show local bars, restaurants, and other establishments that their businesses will profit because of this legislation and that you support workers' rights.
Emily Betros,
organizational and community practice graduate student