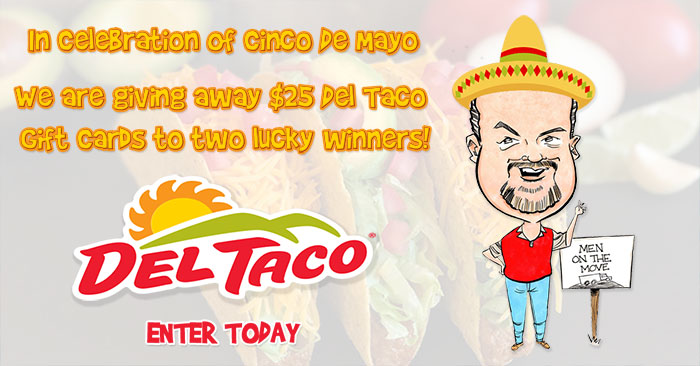 For the whole month of May, we are giving away $25 Del Taco gift cards to two lucky winners!  To enter, simply fill out the form below. Yep, that is it, super simple!
Everybody loves tasty tacos and burritos, now is your chance to win free ones! What are you waiting for? Enter Today!
Enter The Del Taco Gift Card Giveaway!
---
Two lucky winners will be drawn on May 31st, 2019. The winners will be emailed, if they do not respond within three days, new winners will be drawn. Open to Michigan residents that 18 years of age.
Enter to win $50 Worth of Gift Cards For Your Final Four Party!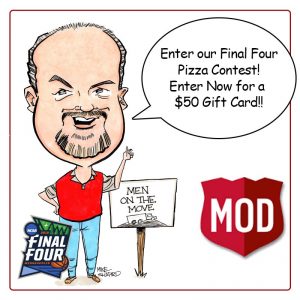 Want to be the hit of your Final Four party? Enter now for a chance to win $50 in MOD pizza gift cards for your next party! Hurry and enter now to win the Final Four Party Giveaway the deadline is April 5th, 2019!
At Men on the Move love giving back to our customers and communities in the Greater Metro Detroit area. So it is great when we have the opportunity to give away prizes and deals to all our loyal customers and friends!  We have teamed up with MOD Pizza to give one lucky winner a $50 gift card! 
This promotion has ended
It's simple and easy to enter! All you have to do is fill out the form above and you are entered to win our "Final Four Party Giveaway" to MOD Pizza.
Who Is MOD Pizza?
Mod Pizza was started in 2008 by a husband and wife out on the West Coast who wanted fresh and quality fast food. They treat their employees right and have only the freshest and best ingredients for their pizzas. With stores locally in Livonia, Northville and Canton, and 8 total now in Michigan (see below), you won't have far to go to find the nearest location!

No strings attached. The winner will be drawn at random from the entries on the MichiganMovers.com website.
Past winners include S. Mills and D. Perttola and the next winner can be you!
The gift card is good at any of the following Mod Pizza locations in Michigan:
---
---
---
We are moving all over Southeast Michigan! And our customers, friends, and hopefully soon to be customers are seeing us! We have been doing a contest the past couple weeks; find us, take a picture and tag us on Facebook  each week to be entered for a $50.00 gas card! Moving people all over Michigan and to other states has been a great advantage for all of us!
Update Contest Has Ended.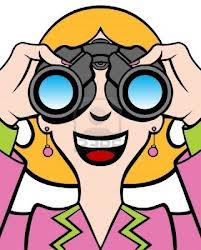 Our last winner for taking a picture of our moving trucks is from South Lyon Michigan, though she saw our truck moving in Westland. We want to thank Sandy from South Lyon and the great city's near her like New Hudson. We have been moving people all around the area of our Great Lakes. Last week we were in Commerce Twp. Michigan moving a customer to New Hudson (Lyon Twp). When you don't live or work in the not so far cities that surround you here in Michigan you don't always realize what this great state has to offer. While we were in New Hudson our customers were telling us how great their realtor was and what they are excited for around their new home. Just a bit away from the city with lots of trees and golf greens, that's what they are looking forward to.
Whether you like city life like Royal Oak, Ann Arbor, Downtown Detroit, or prefer small towns like Milford, Commerce, South Lyon or Plymouth Michigan. We are moving customers all over, customers are finding us, snapping pictures, and we are enjoying the ride! If you have any questions about where, how or what your moving CALL MEN ON THE MOVE TODAY at (734) 744-9547 or get a free quote!!! We will make this the easiest, safe and great experience move you've ever had!