When searching for an affordable apartment, one of the biggest concerns is whether the landlord will demonstrate a commitment to serving the tenant. It is the landlord's responsibility to ensure that the home is safe and maintained. However, many landlords try to keep costs low by minimizing the staff and postponing repairs.
Very unethical landlord practices can put both the tenant's health and property in jeopardy. Fire hazards can lead to actual fires that can consume everything that the tenant owns. To protect themselves in the event of a fire, break-in, or other disaster, tenants should consider looking for renters insurance at RentersInsurance.com.
Few renters want the hassle of dealing with a dishonest, unethical, or unreliable landlord, especially if the tenant has to go through the trouble of suing the landlord or the expense of terminating the lease early. Fortunately, there are ways that tenants can identify and avoid bad landlords in the first place.
Signs Of Bad Landlords
The first telltale sign of a bad landlord is the condition of the property. Most landlords try to get the property in the best condition possible in order to impress potential renters. If the apartment already appears to be of low-quality, that is a sign that the landlord isn't responsible.
Another way to determine if the landlord is reliable is his or her overall attitude. If the landlord does not behave in a professional manner, this is a sign. Many tenants get an unsettling feeling when they first meet a disreputable landlord.
The Internet can be a handy tool for identifying bad landlords.  Wronged tenants are often eager to voice their frustrations. Many websites list user reviews of apartments. If none are available, the apartment seer could consider approaching one of the current tenants to ask about his or her experiences.
Another approach is to try to determine whether there are any legal incidents that the landlord has been involved in. Most landlords do not change their behaviors and any repeated legal troubles that the landlord has been involved in can be a sign of things to come. Before signing a lease, the tenant should learn his or her legal rights. Even though many poor tenants can be spotted, the tenant should be prepared in the event that the landlord turns out to be irresponsible.
Finally, contact Men on the Move today for your next move!
Long Distance Moving to Wilmington, North Carolina
The winter semester at many colleges and universities is over and graduations are underway. During this season, Men on the Move helps many young graduates move home. Long distance moving or interstate moving from Westland or Livonia are the most popular moves during this time.
Recently after completing a long distance move from Michigan to North Carolina, our Michigan movers had a chance to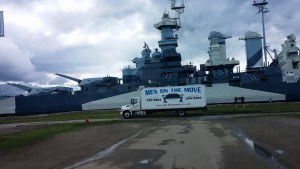 visit the USS North Carolina Battleship in Wilmington. Also, the USS North Carolina Battleship was one of the first fast battleships in World War II. The success of this ship helped to establish fast battleships as a protector of other aircraft carriers.On April 29 in 1962, the USS North Carolina because a memorial for the 10,000 people from North Carolina who died in the war. While in North Carolina, we had a chance to stop to have some fun and visit this great battleship. (Check out the photo on the left.)
Are you a recent graduate of  Michigan State University, Wayne State University, or Oakland University? Are you looking to make an interstate move from Michigan? Men on the Move is here to help you with a smooth college moving experience. Contact us today.
It's always a great idea to plan your move well in advance. Usually, planning two to three months ahead of time is a good time span to get all of your belongings sorted out. Although Men on the Move recommends you to plan ahead, sometimes people don't have time and have to move last minute. Regardless, we are here to help you.
Last MInute Moving Advice
Last minute moving can be a pain and can feel like you're being rushed but with these tips, we can make your quick move seem like it was planned:
Throw away the unnecessary junk. Getting rid of the items that you don't need is essential when doing your last minute move because it helps you in the long run. Instead of just packing up everything and moving, sorting and throwing away or donating the things that you no longer want makes your move easier. The fewer items you have to pack, the less stress you'll have when moving. Moving takes time and energy and by having everything already sorted out or thrown away prior to moving to another location, it will make your move even smoother.
Make piles. Sorting your belongings into three piles (to keep, to throw away, and to donate) can be very beneficial during your last minute move. If you haven't used, worn, or played with it in over a year, throwing it out or giving it away would be your best bet. Moving last minute doesn't have to just involve you; your family and friends can get involved too to help your move go by faster.
Start packing. Men on the Move suggests using boxes when packing. Used or new boxes, the choice is yours. Make sure you properly wrap things such as mirrors, lamps, and glass with bubble wrap for safety reasons. Fragile objects like that will need to be carried more carefully than things such as clothes and shoes. Once everything is packed away, look around your old home to make sure you're not forgetting anything. Check out our tips on properly packing your boxes for some helpful advice!
Hire Men on the Move Today
Men on the Move love to see our customers satisfied. If you're currently packing for your last minute move, contact us today. Finally, let us help you take that burden off of your shoulders.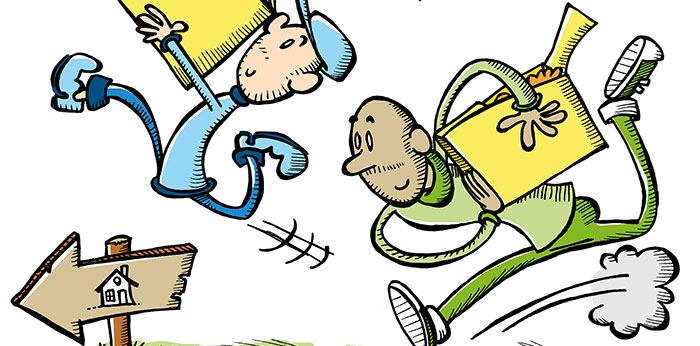 Figuring out what to keep and what to throw away, give away, or donate when preparing your move can be a pain. You have to decide which items mean more to you than others and which really are useless to you and your family. The moving process can be stressful but it doesn't have to be.
First and foremost, breathe. It is much easier to move when you're relaxed which tends to help the moving process go by faster. While going through your things, make a "to go" and a "to stay" pile. By organizing your items, you will be able to see which items you would like to keep for your new home and which items you are less interested in now.
Before finalizing your decision, look over the items you've decided to keep one last time. Ask yourself "Was it worth a long of money?" "Did it take me a while to finally get it?" If your answers are yes, then these are the types of items you should keep. Of course, you should never throw away memorable items such as a photo album or a videotape of your baby's first steps, but if there are some items you haven't looked at or touched within the past five years why hold on to them?
What To Keep When Moving
Moving to a new home is like turning over a new leaf. The only way to move forward is if you leave the unnecessary things behind.
Remember, when going through your valuables, ask yourself "Do I really need this?" If your answer is no, throw it out or give it away. If you ever need help with moving from one place to another, Men on the Move is here to help. We can assure you that your moving process will be easy. Give us a call today at any one of our locations. We look forward to being assistance to you!
Just received notice from Angie's list, Men on the Move has made the Honor Roll. We achieved this by receiving 2+ A-rating reports over the last 60 days from their members. We are considered to be one of their top rated moving service providers.
I want to take this time to thank the office staff and the Michigan Movers for all their hard work and dedication to our company.
Gary L. Bulson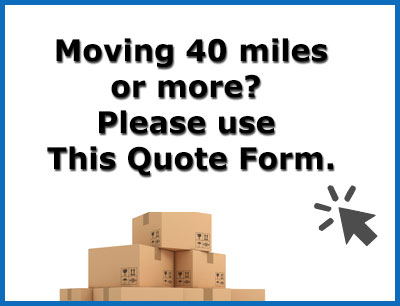 Are you in Michigan and need an interstate moving company or interstate movers? Men on the move can help! Fully licensed and insured, Men on the Move is always Michigan's top choice for any type of long distance move.
Interstate movers for moving from outside Michigan to Michigan, or from Michigan to another state.
Intrastate moving around the Metro Detroit and Ann Arbor areas perfect for college students or moves around Oakland, Wayne and Macomb Counties. But as well as Moving form the Metro Detroit area to Grand Rapids or Traverse City.
Men on the Move is Competitively priced and fully insured.
Free online quotes by clicking here and filling out this for.
Senior and Military moving specials.
Long Distance Interstate Movers
Moving across state lines shouldn't be an issue with the proper moving company. Let us be your movers for your interstate or intrastate move. We are proud to be a quality moving company that allows you to easy and price effectively move across state lines. Why drive or tow your stuff cross county. Let our movers handle the driving for you.
Even if your intrastate move is just around the Detroit region and you're moving from Shelby township or Harrison township to Northville or Plymouth. Even if you choose to move from West Bloomfield to California we can be of assistance. In addition, Men on the Move has been handling long distance moves for over 30 years. Our qualified staff will handle all your belongings with care and get the job done quickly.
Why stress out and have friends and family help? When you can eliminate all the stress just by hiring the best moving company in Michigan, Men on the Move. When it comes to long distance interstate movers, we are the best there is!
Finally, be sure to fill out the form for a free quote for your business or residence.