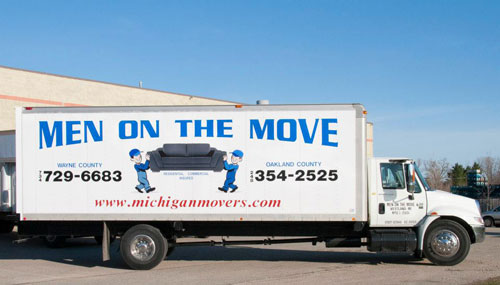 Sometimes there are reasons out of our control that forces you to move your business. Increased rent, the decline in the neighborhood, or better financial reasons, whatever the reason, if you need to move call Men on the Move. Office moving can be a stressful time considering all the logistics of it all. There are many aspects to consider when moving your business. The first being scheduling the right time with your employees.
You do not want to conflict with their schedules causing overtime or less work to be available. The next consideration is who will handle packing everything making it ready. This is where great companies like Men on the Move come in. We can handle everything you need to make your office move go smooth and efficient. Our experts can help you decide what time is best for your business to move. Also, help schedule the best day to do it.
We also carry all the moving supplies you need such as boxes, bubble wrap and packing tape. At Men on the Move, we take the hassle out of moving and handle it all so you do not have to worry. Our dedicated crew is quick and efficient and can get you in your new location in no time.
Trust Men on the Move For Office Moving
Do not trust your office move to fly by night moving companies that will damage your stuff and overcharge you. Men on the Move is a local and fully insured moving company that strives to provide the very best customer service in the state. There is a reason we receive the Angie's List Super Service Award.
So take the stress out of it all and call us today at 734-744-9547 or fill out our commercial quote form and we will contact you with an estimate. Finally, when it comes to a local moving company that can move your office to its new location, the clear choice is Men on the Move!
---
Long Distance Moving to Wilmington, North Carolina
The winter semester at many colleges and universities is over and graduations are underway. During this season, Men on the Move helps many young graduates move home. Long distance moving or interstate moving from Westland or Livonia are the most popular moves during this time.
Recently after completing a long distance move from Michigan to North Carolina, our Michigan movers had a chance to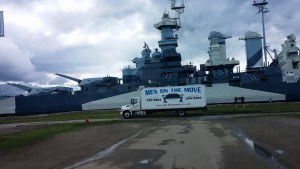 visit the USS North Carolina Battleship in Wilmington. Also, the USS North Carolina Battleship was one of the first fast battleships in World War II. The success of this ship helped to establish fast battleships as a protector of other aircraft carriers.On April 29 in 1962, the USS North Carolina because a memorial for the 10,000 people from North Carolina who died in the war. While in North Carolina, we had a chance to stop to have some fun and visit this great battleship. (Check out the photo on the left.)
Are you a recent graduate of  Michigan State University, Wayne State University, or Oakland University? Are you looking to make an interstate move from Michigan? Men on the Move is here to help you with a smooth college moving experience. Contact us today.
Moving day is approaching, and you may have found that you are in need of some extra hands on the move. If you've never hired a moving service company you may be asking questions like "How much is this going to cost?", "What is the difference between a licensed and unlicensed mover", or " Why not use this craigslist guy?".
First off, we are going to strongly advise you not to use the craigslist guy, just for the simple reason that he probably isn't licensed. Having a license for a moving company is important for you to the consumer because it ensures a few things:
That the company is running a legal operation and can be held accountable for any of their actions
A licensed company will have insurance, and in turn, will probably offer insurance for you the consumer.
Unlicensed movers are more likely to potentially damage your stuff, change prices once they have your possessions, or steal your stuff.
Men on the Move Is A Licensed Moving Company
In the past few years, there has been a skyrocket in complaints against unlicensed moving companies. Many sting operations to shut these illegal operations down (Here is an example story from New Jersey). From items getting stolen to unexpected price hikes, you need a company you can trust. For the Metro Detroit area, there is no better company to use than Men on the Move. You've probably seen us on highway helping someone with their move or heard about us on the radio. When it comes down to it, no one does it better than Men on the Move.
We also offer free quotes for your commercial or residential move so you can better assess your moving costs. Finally, we are fully licensed, insured, and always give our award winning service.
It's always a great idea to plan your move well in advance. Usually, planning two to three months ahead of time is a good time span to get all of your belongings sorted out. Although Men on the Move recommends you to plan ahead, sometimes people don't have time and have to move last minute. Regardless, we are here to help you.
Last MInute Moving Advice
Last minute moving can be a pain and can feel like you're being rushed but with these tips, we can make your quick move seem like it was planned:
Throw away the unnecessary junk. Getting rid of the items that you don't need is essential when doing your last minute move because it helps you in the long run. Instead of just packing up everything and moving, sorting and throwing away or donating the things that you no longer want makes your move easier. The fewer items you have to pack, the less stress you'll have when moving. Moving takes time and energy and by having everything already sorted out or thrown away prior to moving to another location, it will make your move even smoother.
Make piles. Sorting your belongings into three piles (to keep, to throw away, and to donate) can be very beneficial during your last minute move. If you haven't used, worn, or played with it in over a year, throwing it out or giving it away would be your best bet. Moving last minute doesn't have to just involve you; your family and friends can get involved too to help your move go by faster.
Start packing. Men on the Move suggests using boxes when packing. Used or new boxes, the choice is yours. Make sure you properly wrap things such as mirrors, lamps, and glass with bubble wrap for safety reasons. Fragile objects like that will need to be carried more carefully than things such as clothes and shoes. Once everything is packed away, look around your old home to make sure you're not forgetting anything. Check out our tips on properly packing your boxes for some helpful advice!
Hire Men on the Move Today
Men on the Move love to see our customers satisfied. If you're currently packing for your last minute move, contact us today. Finally, let us help you take that burden off of your shoulders.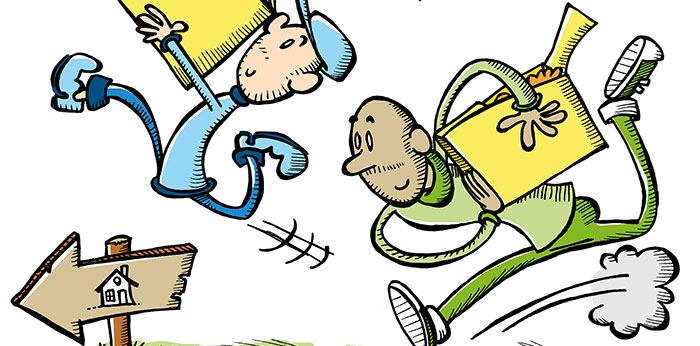 Figuring out what to keep and what to throw away, give away, or donate when preparing your move can be a pain. You have to decide which items mean more to you than others and which really are useless to you and your family. The moving process can be stressful but it doesn't have to be.
First and foremost, breathe. It is much easier to move when you're relaxed which tends to help the moving process go by faster. While going through your things, make a "to go" and a "to stay" pile. By organizing your items, you will be able to see which items you would like to keep for your new home and which items you are less interested in now.
Before finalizing your decision, look over the items you've decided to keep one last time. Ask yourself "Was it worth a long of money?" "Did it take me a while to finally get it?" If your answers are yes, then these are the types of items you should keep. Of course, you should never throw away memorable items such as a photo album or a videotape of your baby's first steps, but if there are some items you haven't looked at or touched within the past five years why hold on to them?
What To Keep When Moving
Moving to a new home is like turning over a new leaf. The only way to move forward is if you leave the unnecessary things behind.
Remember, when going through your valuables, ask yourself "Do I really need this?" If your answer is no, throw it out or give it away. If you ever need help with moving from one place to another, Men on the Move is here to help. We can assure you that your moving process will be easy. Give us a call today at any one of our locations. We look forward to being assistance to you!
Westland Award Program Honors the Achievement
WESTLAND May 17, 2013 — Men On the Move has been selected for the 2013 Best of Westland Award in the Moving Services category by the Westland Award Program.
Each year, the Westland Award Program identifies companies that we believe have achieved exceptional marketing success in their local community and business category. These are local companies that enhance the positive image of small business through service to their customers and our community. These exceptional companies help make the Westland area a great place to live, work and play.
Various sources of information were gathered and analyzed to choose the winners in each category. The 2013 Westland Award Program focuses on quality, not quantity. Winners are determined based on the information gathered both internally by the Westland Award Program and data provided by third parties.
About Westland Award Program
The Westland Award Program is an annual awards program honoring the achievements and accomplishments of local businesses throughout the Westland area. Recognition is given to those companies that have shown the ability to use their best practices and implemented programs to generate competitive advantages and long-term value.
The Westland Award Program was established to recognize the best of local businesses in our community. Our organization works exclusively with local business owners, trade groups, professional associations and other business advertising and marketing groups. Our mission is to recognize the small business community's contributions to the U.S. economy.
SOURCE: Westland Award Program