So you're moving from South Lyon to Port Huron, well there are a few things you should know before making the official leap to the Maritime Capital of Michigan.
#1 You Will Love It There
Port Huron is a high tourist location with stunning views and enough things to do to keep you occupied on the weekends. A smaller city with a population of just under 30,000, Port Huron is quiet with enough of the "big city" to support great shopping. Port Huron is beaming with lots of great history that is well worth looking into. Thomas Edison grew up in Port Huron, the man who revolutionized how we use electricity.
#2 There is Tons of Sites to See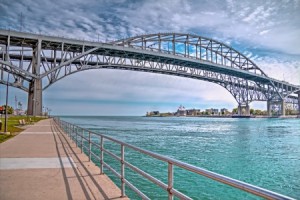 The Blue Water Bridge stands out to be the most dazzling site in the Port Huron Area. The bridge stands roughly 23 stories tall and just over a mile long. If you ever decide to take advantage of the value of the U.S. Dollar in Canada, the casino is a great place to go, right on the other side of the river.
The Fort Gratiot lighthouse sports a lovely tour where you can climb all the way to top for a 360-degree view. It's the second oldest lighthouse in Michigan and rated as a must see! Be aware of your surroundings and make sure you see it at least once. (source: phmuseum)
The Maritime center sits right on the banks of the St. Clair River for a gorgeous view where you have access to all kinds of knowledge of the Great Lakes as well as coffee and donuts at the Waterfront Deli. There is even a live underwater camera!
Hopefully, you and the South Lyon Movers pass Pine Grove Park, one of Port Huron's finest places to throw any kind of event, even a family picnic. The view is absolutely spectacular combined with excellent landscaping and nice people; it's a great place to take nice long walks.
#3 You're Not Moving Too Far Away
It's a good thing there are moving companies near South Lyon like ours to make things a little easier! Sure, it might be a bit of a drive if you have relatives in South Lyon but hey, you're only about an hour and a half from your previous home. Because it's about 90 miles away, it is considered a long distance in-state move by Michigan moving companies, but it's pretty much a two freeway shot via I-696 and I-94.
#4 Waterworks
There is a whole lot of water to play in even if your new home isn't lakefront property. Summer is better than ever with city-wide activities like float-downs. Picture it now, it's 78 degrees, you've got the next 3 days off and the only thing in front of you is a full inner tube and a cold beverage. It doesn't get much better than that.
Not only that, though, you can go fishing any time of year, zip around on a Seadoo, go diving or just have a family outing on the boat. Nothing beats having access to Lake Huron! So, you if you're planning to move or already have bought a place and are planning to move, these things should make you pretty excited. If you're looking for help from South Lyon Michigan movers to make it hassle free, please consider your friends a Men on the Move!