Westland Award Program Honors the Achievement
WESTLAND May 17, 2013 — Men On the Move has been selected for the 2013 Best of Westland Award in the Moving Services category by the Westland Award Program.
Each year, the Westland Award Program identifies companies that we believe have achieved exceptional marketing success in their local community and business category. These are local companies that enhance the positive image of small business through service to their customers and our community. These exceptional companies help make the Westland area a great place to live, work and play.
Various sources of information were gathered and analyzed to choose the winners in each category. The 2013 Westland Award Program focuses on quality, not quantity. Winners are determined based on the information gathered both internally by the Westland Award Program and data provided by third parties.
About Westland Award Program
The Westland Award Program is an annual awards program honoring the achievements and accomplishments of local businesses throughout the Westland area. Recognition is given to those companies that have shown the ability to use their best practices and implemented programs to generate competitive advantages and long-term value.
The Westland Award Program was established to recognize the best of local businesses in our community. Our organization works exclusively with local business owners, trade groups, professional associations and other business advertising and marketing groups. Our mission is to recognize the small business community's contributions to the U.S. economy.
SOURCE: Westland Award Program

Updated 2-5-2016
Here at Men on the Move, we can provide personalized and cost-effective moving service for any local move in the Metropolitan Detroit area including Ann Arbor, Plymouth, Troy, Wyandotte, and surrounding areas. Also, whether you are moving closer to your workplace or downtown for some fun be assured your move is in good hands with Men on the Move. When you move locally with Men on the Move, you will receive affordable moving services, with attention to detail. In addition, our goal is to be there on-time and provide you with great customer satisfaction.
Local Moving to Ann Arbor or Plymouth
When moving to or from Plymouth, Michigan, you will need to find movers in Plymouth, Michigan. At Men on the Move, we have been servicing the Plymouth and Ann Arbor. We serve these areas for over 25 years and we are very familiar with the area. Why bother with movers that have no idea where they are headed, when you can have experienced trustworthy movers of Men on the Move! Moving to Plymouth is a great idea, Plymouth is in the top five of Michigan's healthiest housing market. There is never been a better time to move to Plymouth.
We based our pricing on an hourly rate and are licensed and insured. In many cases, we can provide you with same day or next day service if needed. Give us a call today at (734) 744-9547 or use one of easy to use quote forms to get a quote on your next move. Finally, the next time someone asks you "Who's your mover?" just tell them I use Men on the Move.
Summer time gives you that itch, one that you want to scratch all the way till you get there! To the lakes we mean! Have you been thinking about moving? Now is the perfect time to look for and move into a lakefront Oakland County home. Do you live in Oakland County already? Maybe your on Commerce Lake or Lake Sherwood which are two of the smaller lakes in Oakland County but very recreational.
We can move you anywhere on or by any Oakland County lake! Maybe you just want to check out living on other waterfront homes and take your watercraft to a different lake. Like the biggest lake in Oakland County; Cass Lake or Pontiac Lake which both have a Michigan State Parks on them.There are a few lakes that connect, making it seem like a larger lake; Sylvan Lake and Otter Lake, Maceday Lake and Lotus Lake and North and South Commerce Lake. All these lakes have homes and people moving to different homes in Oakland County let our experienced lakefront Oakland County Michigan serving movers help move your home today.
Whichever move you want to make our movers are prepared to move you and all your belongings with the best care around! We are experienced with moving outdoor furniture, fire pits, watercraft and much more! Call US today for a free quote and see how we can help move you around our amazing Michigan Oakland County Lakes!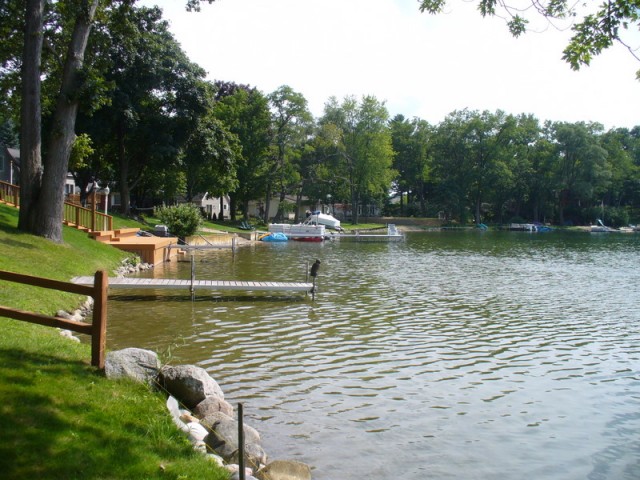 At Men on the Move we are here to help your next move go as smooth as possible! No matter where you are moving, across town, down the street or out of state give us a call an make your move as easy as possible!