When it comes to long distance moving, there are so many important things to consider. Sometimes, the details of what to expect and/or prepare for can be downright overwhelming. However, it doesn't have to be. Professional moving companies exist for this very reason—to lend their expertise during a complex life-changing moment.
Below, you'll read about a couple of benefits to having a professional mover handle your long distance move.
Long Distance Moving Benefits
How many times have you moved within the last decade? Once? A few? Professional movers have perfected their craft down to the "T", meaning that if you were to hand them over your entire move, you'd expect them to do an expert job. Those who have been in this profession for quite some time now are aware of what needs to be done and will do everything that they can to make your long distance move a smooth one.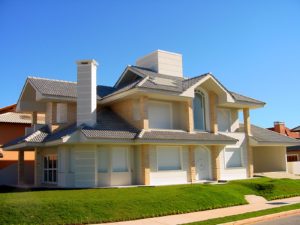 Less Stress
Like a divorce, death or the loss of a job, stress from a life-changing event can take a toll.  Moving a long distance to a new place can be that type of event. With so many decisions to make and things to consider regarding the needs of yourself, family and pets, professional movers can wipe out the hassle of overseeing every single detail and make you feel sane again. The more time for yourself, the better. Preparation is key to dealing with a life change, hiring a professional mover will help you with that.
Safety First
Another advantage to having a professional mover is that they handle all of the heavy liftings. Professional movers are trained in how to properly handle your belongings–no matter what it is. Because of this, it will save you and your family from having sore muscles and will keep you all safe from injuries or accidents.
Long Distance Moving with Men on the Move
Is your new home 40+ miles away from your current home? Prior to hiring a professional moving crew for your long distance move, be sure to have all of your addresses and dates accurate, know whether or not if you're going to keep or buy new furniture and have your children and pet(s) prepared for this life-changing event. Once you have a list of things you're going to take, the next step is to pack, and finally, contact a professional moving company to help you with your long distance move.
So, what are you waiting for? Pick up the phone and call Men on the Move today for your next long distance move. Fill out our free residential quote today! We guarantee you that we'll handle your long distance move at a reasonable price.

The summer is here and the warm Michigan summers days are almost upon us. Also, we here at Men on the Move are gearing up for the busy moving season, which includes getting ready for long distance moves! We are ready to help locals move from cities like Livonia, Canton, Novi and Farmington Hills. If you are gearing up for a long distance move, get it done in one trip with a professional moving service.
Long Distance Move Considerations
You may be relocating your business or moving into your first home and asking yourself "What are the long distance movers rates in Michigan?". The best answer: It depends. The factors that go into a long distance move includes if you're crossing state lines and how many miles away your new location is. In addition, we take all of these things into account, plus current laws and regulations to give you your final quote.
Local Long Distance Movers in Michigan
We have been in the industry long enough to see the pitfalls and the scammers out there. That's why you need a company you can trust with your items. Men on the Move are a full-service long distance moving company that ensures our customers' full satisfaction upon delivery and unloading. We have the years of experience and the reputation you want from a moving company.
If you're in need of a local company that can handle your next long distance move, Men on the Move is your guy! Furthermore, we've been in business for over 25 years, and in that time we've set the bar for customer service. We know you could hire another long distance moving company with a truck, but why would you?  Instead, you should hire a Detroit company that Detroit's love and award year after year. Not only are we accreditated, but we've been voted "Best Moving Company" By the Metro Times the last couple of years in a row.
Finally, if you, a friend, or your business need to relocate, let us help! Get your free quote on your next long distance move here!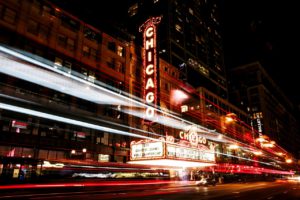 Moving to windy city i.e., Chicago doesn't have to be stressful with Men on the Move! One of the closest major cities to Detroit and a very popular place for Michiganders to move. The jobs, the sites, and plus…it's Chicago. Making the jump to a bigger city can be intimidating, but it doesn't have to be!
We have a list of tips and tricks to make your move to Chicago smooth sailing. We've got insight on out of state moves, securing your apartment in a new big city, and the best way to plan your move. We even can help you with your packing and supply your moving supplies.
Long Distance Moves to Chicago Done by Men on the Move

Whether you're moving for a new job, a new school or just a change of pace Men on the Move can help your move. We're here for the long haul, and will get you there will no hassle or worry. We've been in business long enough to know how to make sure you move to Chicago goes smoothly and hassle free.
If you need a trusted company to help your move to Chicago, let Men on the Move in Michigan help. We have the experience, the reputation, and professionalism you would expect from your home town's local movers. We have helped others with their long distance moves to Chicago, the New England area, and other big cities like New York.
Our award winning service won't let you down. We want your residential or commercial move to go smoothly. So next time you need to move, contact us here at Men on the Move! We'll get you ready and moved into to your new home!
Men on the move professional movers specialize in moving from the Metro Detroit area to Illinois and other midwest metro areas.  We can even give you special pricing for long-distance out of state moves. A good example would be hiring us to move you from the Plymouth-Canton area to Glenview Illinois.
Get your free quote on a move to Chicago today!
As a Michigan resident, you have probably made the trip from Metro Detroit to Chicago at least once. Chicago is a very common travel destination for Michigan residents looking for a quick get away or heading out on a business trip. With only 281.4 miles in between the heart of Detroit to the heart of Chicago, its only about a four hour trip (of course if you miss rush hour). Maybe you enjoyed Chicago Land so much you are preparing to move and make it your new home. If so, wouldn't you like to do so in just one trip?
Things to Consider When Moving From Detroit To Chicago
Moving out of state, even a short distance like moving from Detroit to Chicago, can be a hassle if attempting to do so on your own. Preparing for a move in itself, regardless of your destination can be challenging. Besides packing there are many things that you have to get taken care of prior to moving out of Michigan. If you are moving your family, you may have to enroll your children in school, find new doctors, dentists, you may have to find a new job, or get all your utilities hooked up. To make the process easier our professional full service movers in Michigan can help you, starting with the very first step, packing. Not only do we offer great moving and packing tips, but can actually do the work for you as well.
Your Local Moving Company From Detroit to Chicago
Why turn a four hour move into a 12 hour move? Men on the Move can accomplish your long distance move from Detroit to Chicago in just one trip. Be sure to ask our moving professionals about providing you with packing supplies for your move as well. Get a moving quote now for your Detroit, Michigan to Chicago, Illinois full service out of state move.
Not moving to Chicago? Get information on tri state moves or long distance moves.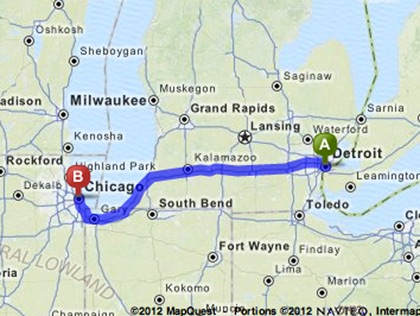 So you're moving from South Lyon to Port Huron, well there are a few things you should know before making the official leap to the Maritime Capital of Michigan.
#1 You Will Love It There
Port Huron is a high tourist location with stunning views and enough things to do to keep you occupied on the weekends. A smaller city with a population of just under 30,000, Port Huron is quiet with enough of the "big city" to support great shopping. Port Huron is beaming with lots of great history that is well worth looking into. Thomas Edison grew up in Port Huron, the man who revolutionized how we use electricity.
#2 There is Tons of Sites to See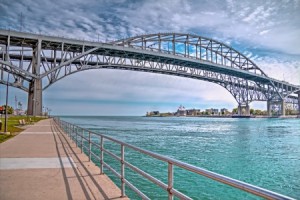 The Blue Water Bridge stands out to be the most dazzling site in the Port Huron Area. The bridge stands roughly 23 stories tall and just over a mile long. If you ever decide to take advantage of the value of the U.S. Dollar in Canada, the casino is a great place to go, right on the other side of the river.
The Fort Gratiot lighthouse sports a lovely tour where you can climb all the way to top for a 360-degree view. It's the second oldest lighthouse in Michigan and rated as a must see! Be aware of your surroundings and make sure you see it at least once. (source: phmuseum)
The Maritime center sits right on the banks of the St. Clair River for a gorgeous view where you have access to all kinds of knowledge of the Great Lakes as well as coffee and donuts at the Waterfront Deli. There is even a live underwater camera!
Hopefully, you and the South Lyon Movers pass Pine Grove Park, one of Port Huron's finest places to throw any kind of event, even a family picnic. The view is absolutely spectacular combined with excellent landscaping and nice people; it's a great place to take nice long walks.
#3 You're Not Moving Too Far Away
It's a good thing there are moving companies near South Lyon like ours to make things a little easier! Sure, it might be a bit of a drive if you have relatives in South Lyon but hey, you're only about an hour and a half from your previous home. Because it's about 90 miles away, it is considered a long distance in-state move by Michigan moving companies, but it's pretty much a two freeway shot via I-696 and I-94.
#4 Waterworks
There is a whole lot of water to play in even if your new home isn't lakefront property. Summer is better than ever with city-wide activities like float-downs. Picture it now, it's 78 degrees, you've got the next 3 days off and the only thing in front of you is a full inner tube and a cold beverage. It doesn't get much better than that.
Not only that, though, you can go fishing any time of year, zip around on a Seadoo, go diving or just have a family outing on the boat. Nothing beats having access to Lake Huron! So, you if you're planning to move or already have bought a place and are planning to move, these things should make you pretty excited. If you're looking for help from South Lyon Michigan movers to make it hassle free, please consider your friends a Men on the Move!
When you talk about a long distance moving, the first thing you need to consider when hiring professional movers. What is the exact definition of a long distance move? A long-distance move is any move that is over 40 miles, that can be in-state or out of state.
Before hiring a moving crew for a long distance move, make sure to have all your dates and addresses locked down and correct. Some companies may charge you if you need to change moving dates at the last minute, so before booking make sure to have all your information correct. Next, you need to decide how much you are moving. Are you moving all your furniture or just some or none and buying new?
Long Distance Moving Tips
Once you have a list of what you are going to take, the next step would be to pack. Of course, packing yourself or having friends and family help can save you some money over having a company pack your stuff. Canceling your utilities at your old place and scheduling new installs at the new place is something you should consider doing as well.
Once you are packed and scheduled you need to consider hiring an experienced and insured mover that will handle long distance moves at a reasonable price, such as Men on the Move! Men on the Move have decades of experience and will always deliver your belongings on time and safe and secure, contact Men on the Move today for your long distance move.
Do you need some extra money this holiday season or looking for a great chance at some cool gift cards? Visit You Must Be Curious for your chance to win a $100 Visa gift card and other great prizes! Just answer the three question quiz and you are entered for a chance to win great gift cards, enter today!