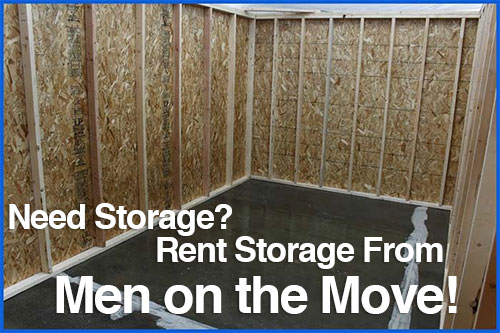 The summer has come to an end, and you may want to store your outdoor furniture and grill. Now you could clutter up your garage or basement but why bother doing that. At Men on the Move, we have indoor secure storage available this Fall.  Our storage units are 10 x 10 or 10 x 15 and can hold just about anything you have!
Storage Available Right Away
If you are planning on moving this fall, the perfect way to store your items is with our available storage. In addition to being secure, our storage is indoors so you don't need to stand in the rain when storing your items. Also, our large storage area can hold up to 3 bedrooms full of stuff. No one is allowed near the storage without proper access. If you are looking to make room in your garage and want to store your items now is the time to act.
There are a few items that are not permitted to be stored. Items such as gasoline, propane, kerosene, acid, grease, fireworks, paints, chemicals and other combustible or flammable materials are not allowed to be stored.  But of course, things such as boxes, furniture, beds, TVs, and much more can be stored.
Sign Up Today
So what are you waiting for? Use the form below and we will contact you with all the available options for our storage units. Again, are units are large, secure, dry spaces to store anything you have. If you have questions about our storage give us a call today at (734) 744-9547. Our units are located in Livonia off of I96 on Merriman road. With easy access to the freeway and major roads, it is a great location.
Finally, fill out the form below and we will contact you with all the details you need to store your items safe and secure!