The summer is here and the warm Michigan summers days are almost upon us. Also, we here at Men on the Move are gearing up for the busy moving season, which includes getting ready for long distance moves! We are ready to help locals move from cities like Livonia, Canton, Novi and Farmington Hills. If you are gearing up for a long distance move, get it done in one trip with a professional moving service.
Long Distance Move Considerations
You may be relocating your business or moving into your first home and asking yourself "What are the long distance movers rates in Michigan?". The best answer: It depends. The factors that go into a long distance move includes if you're crossing state lines and how many miles away your new location is. In addition, we take all of these things into account, plus current laws and regulations to give you your final quote.
Local Long Distance Movers in Michigan
We have been in the industry long enough to see the pitfalls and the scammers out there. That's why you need a company you can trust with your items. Men on the Move are a full-service long distance moving company that ensures our customers' full satisfaction upon delivery and unloading. We have the years of experience and the reputation you want from a moving company.
If you're in need of a local company that can handle your next long distance move, Men on the Move is your guy! Furthermore, we've been in business for over 25 years, and in that time we've set the bar for customer service. We know you could hire another long distance moving company with a truck, but why would you?  Instead, you should hire a Detroit company that Detroit's love and award year after year. Not only are we accreditated, but we've been voted "Best Moving Company" By the Metro Times the last couple of years in a row.
Finally, if you, a friend, or your business need to relocate, let us help! Get your free quote on your next long distance move here!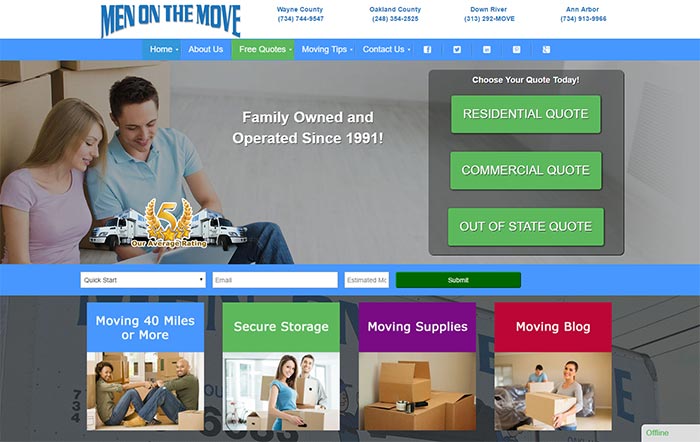 You may have noticed that Men on the Move has gone with a new look this year. For 2017, we decided to freshen up our website and give customers an easier more appealing site to navigate. At Men on the Move, we want to take the hassle out of moving and by providing you with an easy way to contact us is a priority to us.
New Features and New Look
Of course, no matter what city or area you live in we have a number for you to call. Don't want to fill out a quote form? No problem, look right across the top of our site for any of our four phone numbers. In addition, we always have a moving expert ready to take your call and help you with any questions you might have. Need a quote fast? Use our easy quick start quote, all you have to do is select the quote you want and hit submit and it will take you right to your form.
Already know the quote you want? Simply select one of the green buttons and away you go to the quote you need. Also available, if you look at the bottom right, we have online chat, even if it says offline, feel free to leave us a message! If you need to move over 40 miles, secure storage, moving supplies, or like to read our blog, the nice large icons will take you there.  Also, you can learn what others have said about Men on the Move by scrolling down and reading our testimonials.
The next time you are looking for a qualified mover, remember Men on the Move. Furthermore,  Men on the Move is the recipient of Angie's List Super Service Award as well as voted Best of Detroit by the Metro Times. Finally, support a veteran owned and operated business and hire Men on the Move the best local mover in town!